This is the IMRU Community Calendar featuring
all the best things to do and see under the rainbow of Southern California
GAYS R' US – Wednesday, February 1
Jennie McNulty hosts an amazing night of GAYS R US comedy this Wednesday at the Hollywood Improv: Bridget McManus, Nico Santos, Shelagh Ratner, with Jonny McGovern headlining and more!!! Happening at 8pm at The Hollywood Improv, located at 8162 Melrose Ave, Los Angeles, CA 90046 (Tel: 323-651-2583)
FRUIT FLY starring Leslie Jordan – opens Friday, Jan 6 (thru February 18)
Do gay men become their mothers? That is the question asked in Leslie Jordan's hilarious and touching new romp, FRUIT FLY. Mr. Jordan travels back in time using show-and-tell to take the audience on the ride of a lifetime. Childhood recollections combine with perilous teenage shenanigans. From the day a teenage Leslie sits down with his poor, clueless mother to inform her that he has decided to forego college to become a female impersonator, all the way to a Gay Alaskan Cruise on which a 53-year-old Mr. Jordan witnesses his aging mother's astounding metamorphosis (and whose only real concern about a gay cruise to Alaska is that she doesn't want to go ice fishing), Mr. Jordan is in his element. His storytelling skills abound and will make for an evening of fun and thought-provoking theater.
Celebration Theatre
7051B Santa Monica Blvd
Los Angeles, CA 90038
Tickets: $34
January 6 – February 18, Thursdays, Fridays and Saturdays at 8pm; Sundays at 3pm
For tickets, please call (323) 957-1884 - or visit www.celebrationtheatre.com to purchase tickets online (24 Hours a Day) or to view a complete schedule!
O(h) at The Actors Company Theatre thru February 19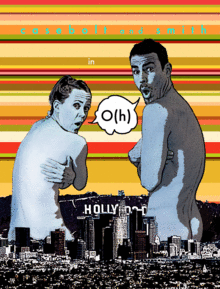 Dance duo casebolt and smith deconstruct their creative process in an evening of brash humor, lightning-quick repartee, show tunes and imaginative choreography, demonstrating what dancers can, can't and won't do as a commentary on their own limitations and fear of becoming unoriginal. Speaking directly to the audience and singing while dancing, the performance is layered with pop culture references- a complex and hilarious glimpse into the minds and pants of the performers.
"casebolt and smith bring intimacy and directness, and a seriousness of purpose warmly wrapped in physicality, playfulness and humour. They have the rare quality of a light, but sharp political edge in their work, which entertains as it makes you think and re-think." -What's On Northern Ireland
Dates: January 13 - February 19, Fridays and Saturdays at 8pm, Sundays at 5pm
Minimum Age: 12
Dog Friendly: No
Non-Smoking: Yes!
Wheelchair Accessible: Yes!
ACTOR'S COMPANY THEATRE at 916a Formosa Avem West hollywood CA
Info: Phone 323-364-5411 or email info@caseboltandsmith.com
Web: http://www.caseboltandsmith.com/
A TRIBUTE TO AFRICAN AMERICAN AUTHORS – February 16
Noted African American actors read from the great works
Join Kim Coles, Doug Sperman, Iona Morris and more as they explore the richness and celebrate the contributions of great African American writers. You'll hear their words presented as never before and experience the depth and brilliance of their visions. This tribute is being offered in conjunction with the next exhibit in the Advocate & Gochis Galleries: Bright Images Through Dark Eyes.
THE MISMATCH GAME – with your host Dennis Hensley: February 18 & 19
Dennis Hensley's comic free-for-all, The MisMatch Game, returns for another two nights of delicious celebrity impersonations and '70s game-show madness. You'll have the opportunity to be an on-stage contestant and win fabulous (ok, maybe kitschy's a better word) prizes. So dust off your leisure suit and get ready to match the stars!
The Renberg Theatre
Saturday, Feb 18 at 8 p.m.
Sunday, Feb 19 at 7 p.m.
Tickets: $15
Debbie Praver: The Egg McMuffin of Comedy – February 25
Comedian/writer/actor/personal trainer Debbie Praver is one of the fastest-rising stars of comedy. The Desperate Housewives guest star and refugee from the Magic Kingdom (she was Minnie, Sneezy, Pinnochio, Grumpy, the March Hare and more before she escaped) comes to the Renberg to film her new comedy video!
The Renberg Theatre
Saturday, February 25 at 8 pm
Tickets: $20
Special Encore Performances! One Weekend Only
Miss Coco Peru in There Comes a Time – March 2-4
You asked for it; you got it! Coco's back with a special encore weekend of the national smash hit show, There Comes A Time! If you missed it last time and have been kicking yourself ever since, here's your chance to redeem yourself. And if you did see it in 2011, you know with Coco once is never enough!
Fri & Sat, March 2 & 3 at 8 p.m.
Sunday, March 4 at 7 p.m.
Tickets: $25
THE RENBERG THEATRE
Village at Ed Gould Plaza
1125 N. McCadden Pl.
Los Angeles, CA 90038
RECURRING EVENTS....
MONDAYS
GAY SALSA NIGHT: If you remember the Salsa Dances at Rudolpho's back in the 90's and early 2000's, or just want to give your dancing shoes a work out, check this out!! Mambo Infierno brings you Gay Salsa Night every Monday at Little Temple in Silverlake,CA. We provide a salsa dance instructor for beginners. Dance class starts at 8:30pm. Enjoy the salsa music with DJ FRANK - the best salsa dj in LA! $5 Cover. Go to http://www.myspace.com/gaysalsanight for more information!
WOMEN'S GROUP AT the SOUTH BAY LGBT CENTER: The South Bay LGBT Women's Group hosts a Women's Group at the Center. All interested women at any stage of life, love, liberty, and the pursuit of happiness are welcome to attend this group, which provides a safe and welcoming environment to meet, socialize, build friendships, and support the South Bay LGBT Center. Guidelines will be reviewed each week to ensure fairness, confidentiality, and respect for diverse opinions. $2 donation appreciated. Info: Voice mail: 310-328-6550, email: womensgroup@southbaycenter.org
LGBT Center - 16610 Crenshaw Blvd., Torrance, 90504 (310-328-6550)
TUESDAYS
IN THE MEANTIME MEN'S GROUP (ITMT) hosts discussion groups as follows:
BROTHERS REACHING BROTHERS DISCUSSION GROUP from 7:30pm - 9pm at The Village Health Foundation Community Room on W. Pico Blvd., Los Angeles, CA 90019. The purpose of the group is to enrich, empower, and extend the lives of intergenerational black men, respectful of sexual orientation, through social, educational, health and wellness programs and services." For more info: visit www.mylifemystyle.net
THE KICK BACK DISCUSSION GROUP FOR YOUNG MEN 29 and UNDER: Every 2nd and 4th Tuesday of the Month from 7-9 p.m. at the New Drop-In Community Youth Center, 4067 W. Pico Blvd, Los Angeles, CA 90019 — 323-733-4868
Free and Open — Refreshments served
www.inthemeantimemen.org — www.mylifemystyle.net
The mission of IN THE MEANTIME MEN'S GROUP is to enrich, empower, and extend the lives of intergenerational black men, respectful of sexual orientation, through social, educational, health and wellness programs and services." Over the past 10 years In The Meantime has been on the forefront of creating an environment that supports, empowers and educates black, gay, same gender-loving and bi-sexual men in Los Angeles County. Through an integrated holistic approach to wellness, In The Meantime (ITMT) focuses on the mental/emotional, physical, spiritual, and economic well being of a community that is oftentimes isolated and excluded from mainstream society. ITMT facilitates three home-grown HIV/AIDS empowerment prevention programs, two (weekly) social discussion support groups, peer and group counseling, a black men's wellness conference, a three day men's empowerment retreat, the SOLA Meth Crystal Meth Taskforce, and the South Los Angeles Black Gay Men's Taskforce, computer training, a quarterly community publication (Message In The Meantime), an online weekly newsletter, and a host of community and cultural events that focus on community building that include a King Day Celebration and a Kwanzaa Celebration. ITMT'S most recent program addition is a community drop-in center that provides a relaxed social environment for youth programming, and HIV/AIDS testing and counseling activities.
WEDNESDAYS
GRIFFITH PARK CONDITIONING HIKE: Gay and Lesbian Sierra Club has a weekly Griffith Park Conditioning Hike every Wednesday night at 7pm. Join the Sierrans for a moderate hike of 5 miles to Mt. Hollywood with an eleven hundred foot gain. Lug-soled boots are best for traction, but some hikers wear sneakers. Bring a flashlight if you're not used to hiking in the dark. Rain cancels. That's every Wednesday, 7 p.m. sharp by the flagpole near the vending machines at the Griffith Park Visitors Center. Check out other gay and lesbian Sierran outings at angeles.sierraclub.org/gls/
FRIDAYS

FRIDAY NIGHT DROP-IN: Friday evening at the South Bay LGBT Center, 7:00 - 9:45 pm. The Center will be open for your use and enjoyment. Come by and pick up publications, join in conversations about a variety of topics or hang out in a safe place; play games - there are several games at the Center, or people can bring their own table or board games. For a small donation, participants can enjoy coffee, tea, sodas, water and sometimes desserts. For questions, leave a message at (310) 328-6550. For more information, leave a message at (310) 328-6550. Check the Calendar for updates and details. southbaycenter.org
SUNDAYS
GOOD SHEPHERD CHURCH Sundays at 2pm: Good Shepherd Church at 570 East Orange Grove Blvd in Pasadena is a congregation of full inclusion. All are welcome regardless of race, gender, sexual orientation or sexual identity. An LGBT Church and so much more... "We warmly welcome the LGBT Community and its allies. We are a Christian independent congregation and not connected with any denomination. We affirm that God loves and cherishes all His children, and has shown His love through the sacrifice of Jesus Christ. We invite you to join us, regardless of your religious or denominational background." For more info, go to: goodshepherdpasadena.com
You can find information on these and other events listed at the public Google IMRU Community Calendar which can be viewed/printed in monthly/weekly/daily or agenda forms. We also blog about important happenings at imru.posterous.com where you can leave comments or suggestions and crosspost links to the Calendar on Twitter as well as our Facebook page—so it pays to be a Friend and to Follow Us.