Today's segment featured an interview with Lyle Ritz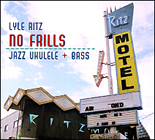 Info about Lyle Ritz can be found at [ www.fleamarketmusic.com ] 
On today's segment we heard the following songs:
1. Lyle Ritz "Beginner's Luck" - No Frills - FleaMarket Music
2. Herb Alpert "A Taste Of Honey"
3. Righteous Brothers "You've Lost That Loving Feeling"
4. The Beach Boys "Good Vibrations"
5. Lyle Ritz "Have You Met Miss Jones" - How About Uke? - Verve
6. Lyle Ritz "Lulu's Back In Town" - A Night Of Ukulele Jazz - FleaMarket Music
7. Lyle Ritz "I'm Beginning To See The Light" - How About Uke? - Verve
8. Lyle Ritz "Ritz Cracker" - How About Uke?" - Verve
9. Lyle Ritz "No Moon At All" - No Frills - FleaMarket Music
10. Lyle Ritz "Blue Monk" - No Frills - FleaMarket Music
11. Lyle Ritz "A Felicidade" - No Frills - FleaMarket Music
12. Lyle Ritz "The Girl From Ipanema" - No Frills - FleaMarket Music
---
August 2006 Southern California Ukulele Events 
Friday July 28th, 2006 10PM No Cover
King Kukulele Presents: Tiki Taix XXV
Join King Kukulele as he welcomes back to Tiki Taix C.B. Howlie on drums, and Crazy Al on Coco-percussion! This will be a trip back to that wonderful night in Room 135 of the Caliente Tropics, reuniting three of the merrymakers that made that night a legend. Think of this as a Tiki All Star band with representatives from the Friki Tikis, Ape, and the Thurston Howlies creating a musical backdrop for Tiki Taix
PLUS Much More
TAIX Restaurant
1911 Sunset Blvd. in Echo Park
Los Angeles 90026 One block north of the lagoon
Sunday, July 30th,
4-7 pm

MANGO CD release party
for their new CD- " Hapa Haole Hulas"
Hawaiian style BBQ Luau with MANGO!
At the Shores Restaurant on the corner of Wooley and Harbor in
Oxnard

$5.00 cover, Complimentary BBQ, music by MANGO, and Hula show from 5-6!
www.MangoandLilikoi.com



Sun July 30, 2006
1:00 PM - 4:00 PM

Makena

Every Sunday, 1 to 4.
Wear your favorite Muumuu or Aloha shirt and get a free shell lei...(Many door prizes!)
OHANA HOU HAWAIIAN GRILL
1230 LAKES DRIVE, #102
WEST COVINA, CA 91790
626-919-2061


Thursday August 3rd at 8pm
Janet Klein & Her Parlor Boys
Steve Allen Theatre
4773 Hollywood Blvd
To purchase tickets visit:
www.steveallentheater.com or phone our new ticket service TIX: 800-595-4849


Thursday August 3rd 7 -10:00 pm
MANGO
At Spectrum, in the Channel Islands Harbor
www.MangoandLilikoi.com 


Friday August 4th at 8pm
Janet Klein & the boys play an opening set for
the screening the legendary film "IT"
with Clara Bow (in case you need to find out what IT is!)
Armand Hammer Museum
at Wilshire and Westwood


Sunday, August 6th, from 1 - 4:00 pm
MANGO
at the Ventura Harbor
www.MangoandLilikoi.com


August 11, 12 and 13th
Janet Klein and Brad Kay will be performing rare gems of the 1910s
at the Sutter Creek Ragtime Festival
for more info
www.suttercreekragtime.com


Sunday August 13th 7:00 PM
THE BILGEWATER BROTHERS David Barlia (ukulele) and John Reynolds (guitar & banjo). A thoroughly charming duo, they'll be performing toe-tapping jazz and parlor room ballads of the 20's and 30's.
The Coffee Gallery Backstage
2029 N. Lake
Altadena, Ca. 91001
Reservations/Information: (626) 398-7917
http://coffeegallery.com


Sunday August 13th
MANGO
Tina's Ports of Paradise, at the Ventura County Fair
www.MangoandLilikoi.com


Friday, August 18, 2006
Raykulele Tiki Night and "Anything Goes" Ukulele Silent Auction
San Diego's hottest artists have been beatin' the heat creating some of the wildest little ukuleles on the mainland. Join us for a summer night of island music, refreshments and color, whilen bidding on these one-of-a-kind, sure to be collectable little beauties. Silent auction closes promptly at
9pm.
Preview night during our monthly Ray at Night Artwalk
8/12/06
. Advanced sealed bids accepted prior to event.
For directions, visit: www.rayatnightartwalk.com
John Stewart McGaughy 619-892-0098  John Stewart Studios

3805 Ray Street
San Diego
,
CA
92104

Time:
6:00-10:00pm
. Auction ends promptly at 9pm


Friday Saturday and Sunday August 18, 19 & 20
Catalina Tiki Fest
Full Island Style, Three Day Tiki Fest with a wide variety of live music and entertainment on Catalina Island
http://www.catalinatikifest.com


Sat August 19, 2006
Long Beach Tiki Beach Festival
The fifth annual Tiki Beach Festival and Polynesian Spectacular comes to the Granada Launch Ramp in Belmont Shore on Saturday and Sunday August 19 th and 20th.
http://www.alfredosbeachclub.com


Saturday Aug 19 and Sunday Aug 20th
Annual
San Diego
Ukulele Festival
on
Shelter
Island
.
2 full days of ukulele workshops and performances including Legends Henry Allen and Kimo Hussey from
Hawaii
. MANGO and rising new ukulele star Victoria Vox, and the best of the West.
www.sandiegoukulelefestival.com
email: webkathy2004@yahoo.com This email address is being protected from spam bots, you need Javascript enabled to view it
Shelter Island on the Bay
Time: 10 am -5pm Saturday 10 am-4 pm Sunday


Friday Aug 25th and Saturday Aug 26th
Victoria Vox will be opening for Kacey Jones Friday and Kaedmon on Saturday
The Coffee Gallery Backstage
2029 N. Lake
Altadena, Ca. 91001
Reservations/Information: (626) 398-7917
http://coffeegallery.com