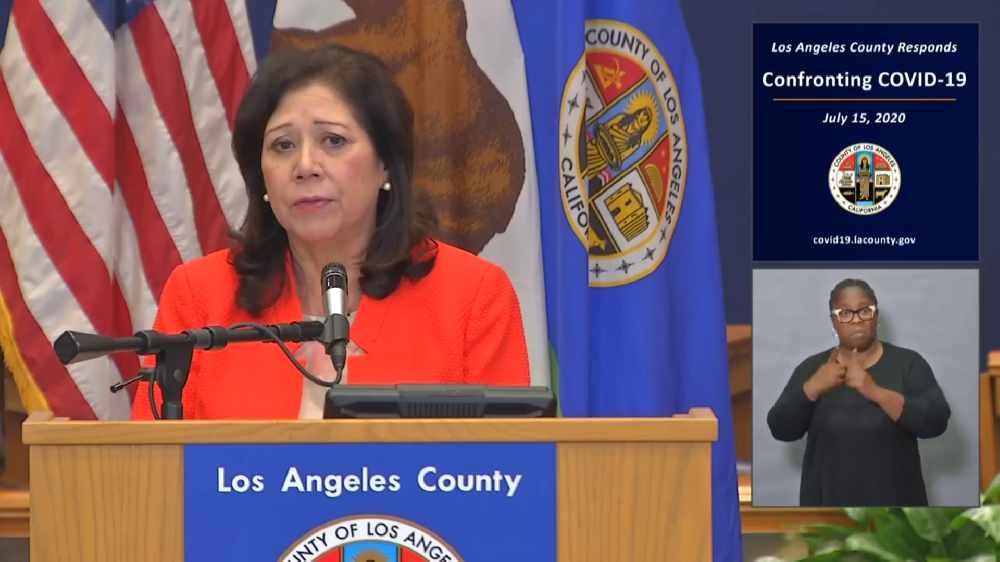 L.A. County Coronavirus Update 7-15-20
By Dan Fritz | KPFK
By all metrics, community spread of coronavirus is rising across Los Angeles County.
Tuesday broke the record of the highest single-day-total of new cases since the pandemic began. It was also nearly the most deadly, with 73 reported deaths.
"[On Tuesday] we reported troubling and startling data," said Barbara Ferrer, head of L.A. County's Department of Public Health, during Wednesday's coronavirus update. "We saw the most cases we've ever reported in a single day. And we also unfortunately had to share that 73 people had died as a result of COVID. To put that in perspective, the most deaths we've ever reported in a single was 76, and that was back in May, and that's when unfortunately we had so many residents in our nursing homes passing away."
Another 44 deaths were announced Wednesday, along with 2,758 more cases.
Other stats, including a higher positivity rate, higher infection rates among younger adults and now record-high hospitalizations, have officials worried.
"This crisis has intensified. It is getting worse and it's affecting people of all ages," said Supervisor Hilda Solis at Wednesday's update.
Barbara Ferrer and county medical services director Dr. Christina Ghaly broke down the on-going disparities based on poverty and race at the Wednesday update, as well as the county's latest effort to expand testing in the communities that need it most.
On Monday, Governor Gavin Newsom ordered re-closures for many businesses. 30 counties, including Los Angeles, Orange and San Diego, were ordered to close gyms, personal care businesses, places of worship. Bars and indoor dining were also mandated to close across the entire state.
"So while the city of Los Angeles' COVID-19 threat level remains on orange, we are on the border of going to red," L.A. Mayor Eric Garcetti said Monday evening. "It is up to all of us to make sure that we don't."