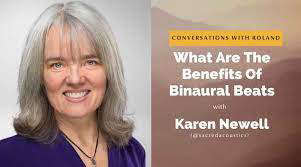 The frequencies of the energy radiated by our brains are higher when we are stimulated and lower when we feel safe and relaxed. Oddly, these brainwave frequencies synchronize with any regular stimulus whether highway guard rail posts moving past us as we drive, the pulsations of a fire, strobe lights or repetitive sounds. This is called brain entrainment.
When two tones with slightly different frequencies are heard in stereo headphones, the brain entrains to the slight difference. Brainwaves slow down and altered states of deep relaxation naturally expand our awareness.
Join us for this Tuesday's "Ageless Wisdom Show" on KPFK-90.7 FM for all of Southern California and live streaming for the world as our guest, Karen Newell, describes "Sacred Acoustics."
The Ageless Wisdom Mystery School program is heard every Tuesday at 1:00 PM Pacific on KPFK-90.7 FM for all of Southern California. It also live-streams for the world at www.KPFK.org (20-hrs summer / 21-hrs winter, UTC) and is podcast on all podcatchers and player apps.