Go Harrison
Go Harrison
This Podcast is now called RealityCheckr with Cary Harrison
Online programming, click here for archives
Subscribe to the podcast
Host: Cary Harrison
AIR TIME: PODCAST MONDAYS 4PM. http://archive.kpfk.org/index.php?
shokey=goharrison
DESCRIPTION: Award-winning news analysis and discussion
NAME OF HOST(s): Cary Harrison
BIO: Harrison delivers insight and analysis with humor and roguish wit, focusing on the political
sphere, cultural icons and relevant social topics that impact a global audience. He delivers
compelling programming, asking the tough questions in the vein of serious investigative
journalism while coaxing the best from interviewees.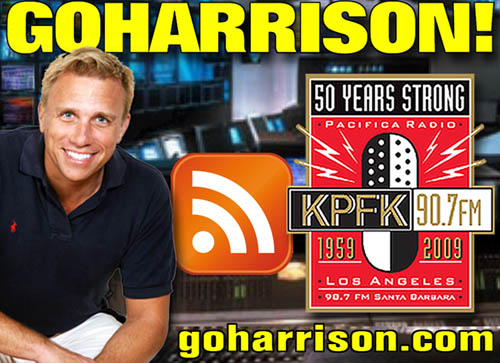 In the tradition of The Daily Show, Harrison delivers a no-holds-barred performance with a comedic News & Pop-Culture-Themed format. Harrison investigates the Right, the Wrong, the Bizarre and Conspiratorial as he ferrets out the truth, all from an independent, pragmatic perspective.
Millions have enjoyed his unique brand of news, commentary and satire, earning him Vanderbilt University's distinguished Siegenthaler Award for integrity, intelligence and courage in the field of journalism, the Sigma Delta Chi award—the highest honor bestowed for public service by the Society of Professional Journalists, and top honors—two years' running—from American Women in Radio & Television for exposé reporting and investigative journalism. Harrison's received 1st place honors for "Best Commentary" from the Associated Press, and was recently honored by the UN, the Mayor and City Council of West Hollywood/Los Angeles for his Environmental and Peace work, and the LA Press Club for News coverage.
EMAIL: harrison@goharrison.com
SOCIAL NETWORKS: (optional, highly encouraged) twitter: @goharrison, Instagram: goharrison, Facebook: goharrison, imdb: Caryharrison
WEBSITE/ BLOG: (optional if you have one). www.goharrison.com
ARCHIVES: http://archive.kpfk.org/index.php?shokey=goharrison
Website: http://www.goharrison.com
Click Here to Listen, Download, & Subscribe to Harrison's Latest Radio Broadcasts