FINAL PORTRAIT - Film Screening
Tuesday, March 13th
Event Summary
Join KPFK listeners for a FREE screening of "Final Portrait"
Price: Free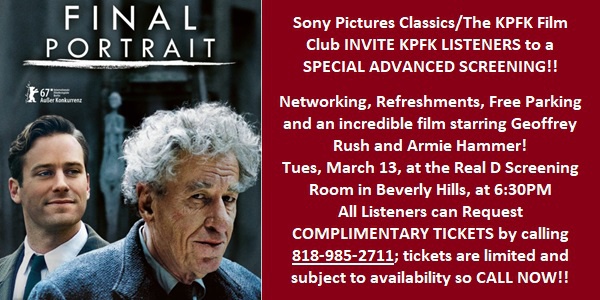 FINAL PORTRAIT starring Geoffrey Rush and Armie Hammer
ALL KPFK LISTENERS are invited to call 818-985-2711 to request an available pair of tickets to this SPECIAL ADVANCED SCREENING
Tues., 3/13:
6:30 PM- Join Us for music, snacks and friendly conversation,
7:30PM --Screening

Location REAL D Screening Room in Beverly Hills, 100 N Crescent Dr. Beverly Hills, CA 90210—
Free Parking beneath the Building
YOU DON'T HAVE TO BE A FILM CLUB MEMBER FOR THIS ONE!! Tickets are limited and subject to availability so you'll want to call NOW!!! Please consider JOINING the Film Club by subscribing at 818-985-2711.

Opens in theaters March 23…Find out more about FINAL PORTRAIT by visiting these interesting websites:
Official Website: http://sonyclassics.com/finalportrait/
Facebook: https://www.facebook.com/FinalPortrait2018/
Twitter: https://twitter.com/sonyclassics
Instagram: https://www.instagram.com/sonyclassics/
Link to the trailer here: https://www.youtube.com/watch?time_continue=59&v=sRsiW5c29Sk
Description: Sony Pictures Classics, the studio whose CALL ME BY YOUR NAME and A FANTASTIC WOMAN just won big at the 2018 Oscars, brings you another fantastic film, FINAL PORTRAIT, starring Geoffrey Rush, Armie Hammer, Tony Shalhoub, and Clémence Poésy. In 1964, while on a short trip to Paris, the American writer and art lover James Lord is asked by his friend, the world renowned artist Alberto Giacometti, to sit for a portrait. The process, Giacometti assures Lord, will take only a few days. Flattered and intrigued, Lord agrees. So begins not only the story of a touching and offbeat friendship, but, seen through the eyes of Lord, a uniquely revealing insight into the beauty, frustration, profundity and, at times, downright chaos of the artistic process. FINAL PORTRAIT is a bewitching portrait of a genius, and of a friendship between two men who are utterly different, yet increasingly bonded through a single, ever evolving act of creativity. It is a film which shines a light on the artistic process itself, by turns exhilarating, exasperating and bewildering, questioning whether the gift of a great artist is a blessing or a curse. Critics are applauding FINAL PORTRAIT, proclaiming that Geoffrey Rush shines in one of his best showcases in years, and describing the film as funny, charming, and fascinating!
Venue
Real D Screening Room
100 N Crescent Dr.
Beverly Hills, CA
90210
Dates
The event runs from 6:30pm to 9:30pm on the following dates.
Select a date to add this event to your calendar app.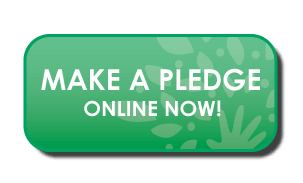 KPFK is a progressive media outlet challenging corporate media perspectives and providing a voice to voiceless communities. Help keep KPFK a strong and independent source of music, arts, news and information.
Los Angeles Area Forecast

Sunny intervals

High: 81°F | Low: 64°F