KPFK's Holiday Fund Drive
---
END OF THE YEAR GIVING CAMPAIGN SWEEPSTAKES FOR DEC 4-DEC 31
It's time for KPFK's End of the Year Giving Campaign and boy do we have a few surprises for you!
Everyone who pledges between December 4th through Dec. 31st will be eligible to win one of 4 amazing sweepstakes prizes we have just for you.
We have 2 pairs of tickets to see the legendary rock band The Rolling Stones "No Filter" Tour at the Rose Bowl Stadium on Saturday, May 11, 2019-
AND our tickets are not just ANY tickets – oh no - they're in the first 5 rows of the stadium!
Plus you'll get transportation to and from the concert provided by The Jackson Limousine Service.
And if that wasn't enough, we also have a few runner-up prizes which include, 2 Beatles White Album Super Deluxe Box Sets (the 50th Anniversary Edition)
All you have to do is call 818-985-5735 (or pledge online at kpfk.org) starting Tuesday Dec 4th to be eligible for these prizes.
KPFK's End of Year Giving Campaign wraps up on December 31st
so make your pledge today and get a chance to win some of these fabulous prizes!

Rising Up w/Sonali Newsfeed
The RSS feed could not be loaded.
Sojourner Truth Newsfeed
Jackie Goldberg for LAUSD Board District 5

  Step 1: Completed.Yesterday we got word that we gathered the necessary number of signatures to get my name on the ballot for the March 5th, 2019 special election.Thank you to all of you who got petitions signed even though it was Thanksgiving holiday.  We could not have done it without all of you!I'm running to be a strong progressive voice on the Board who will put the interests of the students first, and as someone who will not have a big learning curve when elected. I believe my experience and passion for helping students will be a steadying force on a Board that continues to face turmoil. Step 2: Let's go!I need your help. This is going to be a really expensive race. Turn out will be exceedingly low and we will need every dollar we can muster to communicate with the voters in the next two months.So please give what you can today and then call your five closest friends and ask them to do the same.There is nothing more important than our kids. Thank you!Jackie Goldberg, candidate, LAUSD Board seat, District #5You can contribute online by clicking HERE.You can download a hard copy of the contribution form by clicking HERE.You can download an endorsement card by clicking HERE.     1er Paso: CompletadoAyer nos avisaron que tuvimos éxito en recolectar el número necesario de firmas para lograr que mi nombre aparezca en la boleta de votación para la Elección Especial del 5 de marzo de 2019.Gracias a todas las personas que salieron a conseguir firmas para las peticiones aunque lo lograron durante el Día de Acción de Gracias. ¡No lo hubiéramos podido conseguir sin todos ustedes!Estoy corriendo para ser una fuerte voz progresista en la Mesa Directiva para poner los intereses de los estudiantes en primer lugar y ante todo, y como persona que no necesitará mucho tiempo para funcionar plenamente cuando me elijan. Creo que mi experiencia y mi pasión por ayudar a los estudiantes será una fuerza estabilizadora en la Mesa Directiva que sigue teniendo líos políticos.2do Paso: ¡Vámonos!Necesito tu ayuda.  Esta será una carrera muy cara. El número de votantes que saldrán a votar será bajísimo y necesitamos cada dólar que se pueda conseguir para comunicarnos con los votantes en los próximos dos meses.Por esta razón pedimos que hoy mismo contribuyas lo que puedas y que luego les llames a cinco de tus mejores amistades y les pidas que hagan lo mismo.No existe nada más importante que nuestros hijos. ¡Gracias!Jackie Goldberg, candidata para el puesto de la Mesa Directiva del Distrito Escolar Unificado de Los Angeles, Distrito #5. Puedes contribuir por Internet haciendo clic AQUÍ.Puedes descargar una copia del formulario en papel para hacer una  contribución haciendo clic AQUÍ.Puedes descargar una tarjeta para darme tu apoyo haciendo clic AQUÍ.  

New Report Debunks "Terrorist Attack" Pretext for Burma Army Operations Against Rohingya

Kaladan Press Network  New Report Debunks "Terrorist Attack" Pretext for Burma Army Operations Against Rohingya  A new report by Kaladan Press gives a detailed account of the Burma Army's August 2017 "clearance operations" in the large fishing village of Alethankyaw in southern Maungdaw, uncovering new evidence that the operations against the Rohingya were carefully pre-planned, and not a response to "terrorist attacks" on August 25, as claimed by the Burmese government. "The Killing Fields of Alethankyaw," based on eyewitness testimony, exposes systematic preparation and execution of the operations by government forces, using military infrastructure built up along the western edge of the Mayu mountain range since 2012. Fishing boats were seized, Rakhine villagers evacuated, and hundreds of troops moved into the four security camps in Alethankyaw, ready to open fire early on August 25, starting a brutal nine-day attack that left several hundred Rohingya civilians dead, and the village of over 11,000 people empty and in ashes.   No eyewitnesses saw any sign of the thousand "extremist terrorists" alleged by the government to have swarmed up from the beach to attack an Alethankyaw police post early on August 25, and say this was impossible given the tight security – including naval patrols and searchlights over the flat, open terrain, where no one could have hidden. "Our findings debunk the military's claims that they were responding to "terrorist attacks."  Their operations were pre-planned from start to finish, with the clear aim of driving out the Rohingya," said Tin Soe, executive editor of Kaladan Press. The report contains detailed testimony of killing, rape, and looting by government troops, and includes maps showing the security build-up in and around the village, the direction of attacks on August 25, and sites where bodies were disposed of, including under the telecommunication tower newly built by Norwegian-owned Telenor – from which snipers gunned down fleeing men, women, and children. The report is the first to expose the deadly use of the Telenor premises by government troops during the August 2017 operations. "We hope our report will spur foreign investors such as Telenor to take a cold, hard look at their role in aiding the Rohingya genocide," said Tin Soe.   The full report can be viewed on www.kaladanpress.org : link http://www.kaladanpress.org/images/document/2018/KillingFieldsWEB--01.pdf
Pacifica Local Station Board Elections
IT'S ELECTION TIME AGAIN AT PACIFICA!
Local Station Board Elections are now underway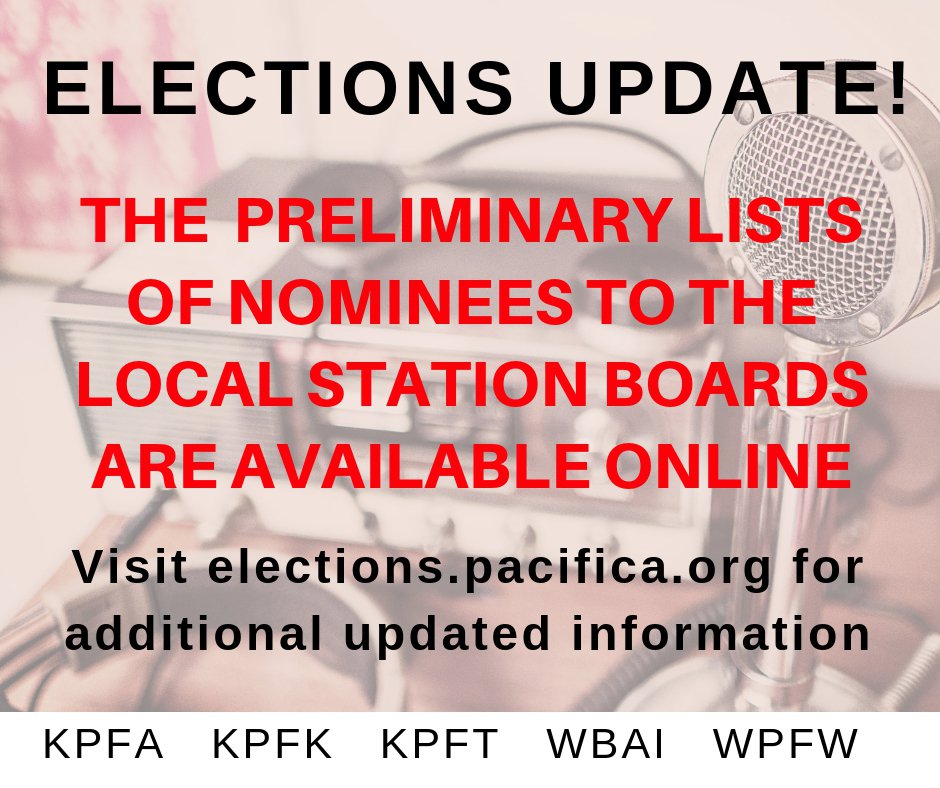 Preliminary candidate applications are now posted publicly at http://elections.pacifica.org

ELECTION TIMELINE UPDATE
Sep 20 Deadline to post Notice of Vote on station websites and send Notice via email
Sep 24 Nomination Period opened
October 1-7 Local Stations run PSAs to notify listeners of election (3x/day x 7 consecutive days)
Oct 20th Record date to qualify to vote or run in the election. Extended by the Pacifica National Board from Oct 1st.
Wed, Oct 27 Nomination Period closes (candidates assessed upon receipt of application) . Extended by the NES from Oct 24th.
Nov. 26 - Preliminary candidate applications will be posted publicly on http://elections.pacifica.org
Nov. 30 All candidates will be notified by their respective local election supervisor that their candidacies are either validated or invalidated. If invalidated, the specific reason or reasons should be given for their disqualification.
December 5 to December 10 Any disqualified candidate shall have 5 days, until midnight December 5, 2018 to make their substantive appeal to their disqualification by making their case to the NES, copying the appropriate LES and Ford Greene for a 2018 election file. The NES will make a ruling by December 10, 2018 and inform the candidate, the appropriate LES with a copy of their final ruling to Ford Greene for a 2018 election file.
CAMPAIGN & VOTING PHASE
December 11 The Ballots will be sent to the printer/mail house by midnight December 11, 2018. A physical ballot will be sent to every listener whose email we DO NOT have.
Beginning on December 11, 2018 and going through January 20th the election period appropriate carts of a minimum of 30 seconds shall be put on every station 8 times a day at minimum.
Beginning December 11, 2018 A 30 second minimum candidate statement shall be played for each candidate 4 times between December 11 and January 20, 2019.
January 24, 2019 Voting shall end January 24, 1019 for stations that reach quorum.
February 5, 2019 If quorum is reached everywhere Ballots shall be counted and the election certified by February 5, 2019.
February 21, 2019 If any station fails to reach quorum, the election shall remain open until Feb. 21
March 10, 2019 If the extended voting is required to reach quorum, Ballots shall be counted and the election certified by March 10, 2019.
Elections are an important part of our democratic process so please get informed and spread the word to others – get in the game of democracy!
Please email all questions or concerns to Renee Penaloza, local election supervisor les_kpfk@pacifica.org
KPFK LSB, CAB and Committee Schedule
Pacifica Foundation Info can be found on the foundation's website at www.pacifica.org.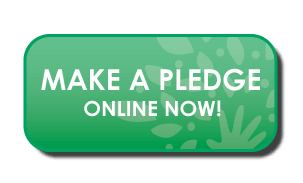 KPFK is a progressive media outlet challenging corporate media perspectives and providing a voice to voiceless communities. Help keep KPFK a strong and independent source of music, arts, news and information.
Los Angeles Area Forecast

Sunny intervals

High: 66°F | Low: 52°F