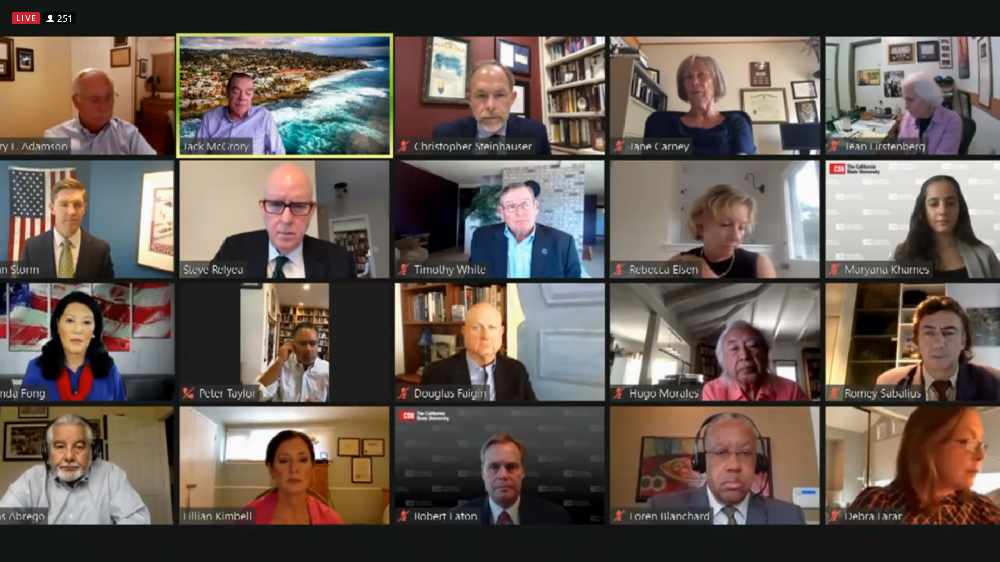 CSU Trustees Meeting via Zoom, 7-22-20
Dan Fritz | KPFK
At the end of last month, California's Senate passed AB 1460, a bill that would mandate the biggest change in course requirements at the California State University in 40 years. If signed by Governor Gavin Newsom, CSU undergraduates would be required to take a three-unit traditional ethnic studies course that focuses on the history of the Black, Latino, Native- or Asian-American communities.
Ethnic studies courses emerged from the San Francisco State campus in the late 60's, thanks to the student-led strikes by the Third World Liberation Front. The group began at San Francisco State University before expanding to nearby UC Berkeley and leaving a permanent mark on higher education.
In 2016, a task force commissioned by the CSU recommended that the university, which is the largest university system in the nation, add ethnic studies to its general education requirements.
The author of AB 1460, Assemblywoman Shirley Weber (D-San Diego), told a CSU committee this week that her legislation is the result of the CSU's inaction.
The CSU Board of Trustees met Wednesday and approved its own counter-proposal, in a 13-to-5 vote, in part to send a message to the California legislature that the CSU curriculum isn't open for lawmakers to set.
The CSU opted for a course requirement that would allow traditional ethnic studies, or a social justice class that focuses on other populations, including studies about women, gender and the Jewish, LGBT and disabled communities.
Opponents on the board said the CSU-backed option waters down the effort for ethnic studies to be a general education requirement; students would still be allowed to graduate without ever taking a traditional ethnic studies class.
CSU Chancellor Timothy White said that "the anchor of this proposal" remains ethnic studies, and a more diverse offering of classes better serves the diversity of the student population.
The California Faculty Association, which represents teachers across the CSU system, has backed AB 1460 and is criticizing the CSU for not directly implementing an ethnic studies requirement.
AB 1460 faces final approval in the last week of July. The ultimate fate of the CSU curriculum may rest with Governor Gavin Newsom, who would have the choice to sign or veto the bill.