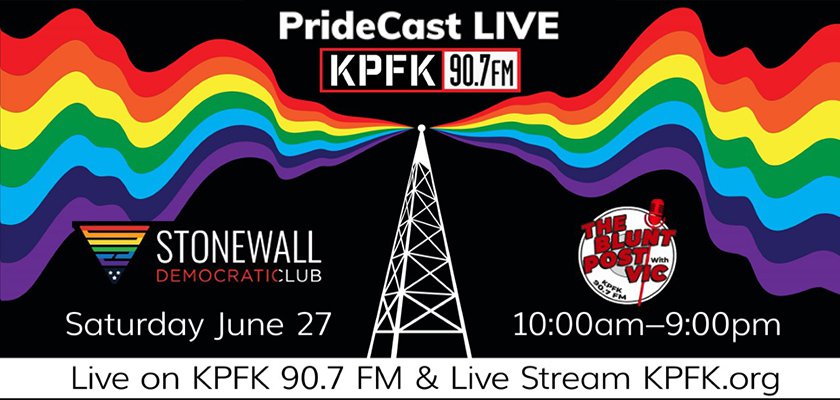 By Vic Gerami
This Pride Month, It is more important than ever to honor the history of the LGBTQIA+ equality movement. We have made tremendous progress since the Black Cat Tavern Uprising and the Stonewall Riots in the fight for equality because of the activism of black trans women and queer people of color. The celebration of our identity and our fight for equality has always been about resistance to a government that has denied us our rights. So, as the Black community continues to demand justice in America, we must stand with them in solidarity against systematic and institutionalized racism, inequality, discrimination, injustice, and police brutality.
In commemoration of 2020 Pride Month, Independent Radio KPFK 90.7 FM and THE BLUNT POST with VIC have partnered with the Stonewall Democratic Club, the nation's oldest LGBTQ+ and feminist political group, advocating for progressive issues since 1975.
In collaboration, the organizations are producing PrideCast LIVE, an 11-hour marathon, on Saturday, June 27, from 10:00 a.m. to 9:00 p.m. in solidarity with Global Pride and Black Lives Matter. The daylong program will air LIVE on KPFK 90.7 FM and Livestream on KPFK.org.
For the special program, KPFK is transforming its logo and creating custom on-air content commemorating pride and standing in solidarity with the Black community. Between the three collaborators, this broadcast will feature Pride-themed shows, exclusive interviews with leading politicians, queer activists, and other high-profile public figures, artist spotlights, and a variety of fresh editorial.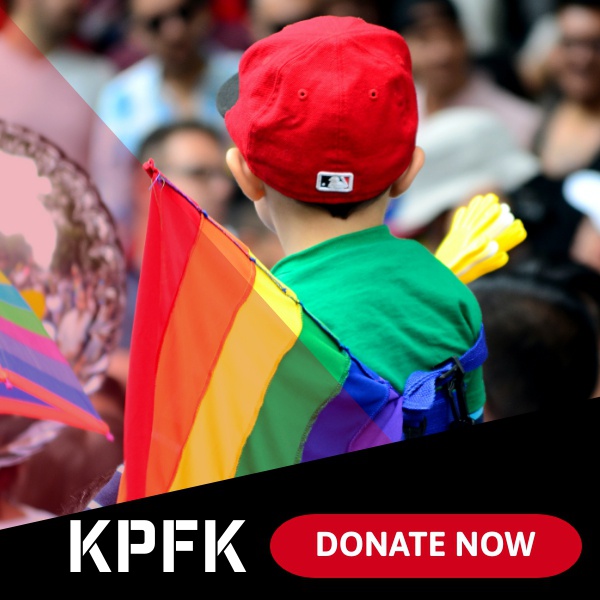 "KPFK Los Angeles is proud to celebrate Pride Day with support from the Stonewall Democratic Club on Global Pride Day. We are committed to the communities we serve to provide news, information, stories, music, culture, and the arts. Please help us remain fearless by supporting us at KPFK.org," said Kevin Fleming, KPFK Program Director.
The 11-hour marathon will have a diverse mix of exciting programs by longtime KPFK programmers as well as new voices. The day will start with a special edition of THE BLUNT POST with VIC, Steve Pride of IMRU, nation's longest-running LGBTQIA+ news magazine, Kiyana M. Williams of Kitchen Conversations, and Lynn Ballen of Feminist Magazine will be joined by Matthew Breen, former Editorial Director of Logo Network and Pride Media, Alex Mohajer, Co-Founder of Bros4America, and Drexel Heard, Executive Director of the Los Angeles County Democratic Party and Community Vice President of the Stonewall Democratic Club.
"This is my third and most important year producing KPFK's Pride program, especially due to the recent murder of George Floyd and many other black Americans who were victims of police brutality caused by institutionalized and systematic anti-black racism. Pride 2020 is not pride, as usual, it is not a celebration, especially with our nation in turmoil while our President has declared war on Americans. With the current situation and an ongoing COVID-19 crisis, pride 2020 is about solidarity with black Americans and all other marginalized minorities. We will show the true meaning of pride on this 50th anniversary of LA Pride-resistance, activism, and resilience, along with our collaboration with the Stonewall Democratic Club." said Vic Gerami.
He added, "It is a natural fit for a station that is known as 'radio powered by the people' to partner with the country's leading LGBTQIA+ political advocacy organization for this historic pride program. THE BLUNT POST with VIC is proud to be a producing partner and bring a lineup of exciting and relevant shows covering pressing currents events."
"The entire Stonewall team is thrilled to take both pride and political action to the Los Angeles airwaves!" said Ryan Basham, Communications Vice President of Stonewall Democratic Club. "We're hard at work collaborating with Vic Gerami and KPFK on exciting, fun, and engaging programming that will help make this year's Pride truly special."
Stonewall President Lester Aponte said, "KPFK has been the standard-bearer of quality radio programming in Los Angeles and has been instrumental in magnifying LGBT voices for decades. We're proud to partner KPFK and The Blunt Post with Vic on what will surely be a one-of-a-kind event."
If your institution would like to support Pride Cast please contact us for details
For Press, Inquiries contact Anyel Z. Fields
Schedule:
10:00 am The Blunt Post with VIC Vic Gerami Opening Kevin Fleming Ryan Basham Lester Aponte Drexel Heard
11:00 am Stonewall Spotlight Stonewall's theme-driven, magazine style podcast) Retrospective
11:30 am LGBTQIA+ Leaders of Tomorrow Interview series/panel with current & former students of Stonewall's Leadership Development Program
12:00 pm IMRU: History of the LGBTQIA+ Rights Movement Narrated by Ann Stockwell Narration of IMRU's iconic features in its archives
1:00 pm Kitchen Conversations Radical Love: Does the Black Community Have Room for Homophobia? In this conversation Dr. Zenita Kelly and Brooke Wade explore what it is like to belong to the LGBTQ+ community (from the black female perspective) with Dr. Diandra Bremond
2:00 pm Risk Storytelling
3:00 pm Feminist Magazine Pride Special Lynn Ballen Intersectionality + Activism + Social Justice + LGBTQIA+ Rights & History
4:00 pm Spotlight: LGBTQIA+ Elected Officials Matthew Breen Interviews with queer politicians
5:00 pm Faith and Queerness A Conversation with faith leaders
6:00 pm The Read Down Stonewall The View-style roundtable show
7:00 pm Stonewall Democratic Club YouTube Special Drexel Heard
8:30 pm Wrap Up