KPFK Presents: The Emotion Code One Day Retreat
Saturday, March 2nd
Event Summary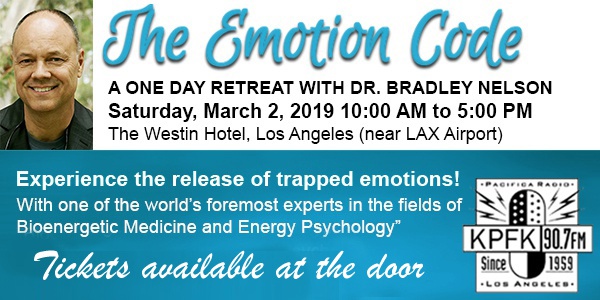 Join Dr. Bradley Nelson for a one-day Emotion Code Retreat
Price: 125
More Information (KPFK 90.7 FM is not responsible for external websites)
ONLINE TICKET SALES HAVE ENDED - TICKETS WILL BE AVAILABLE AT THE DOOR
Join Dr. Bradley Nelson, developer of the most advanced form of energy medicine, and one of the world's foremost experts in the emerging fields of Bioenergetic Medicine and Energy Psychology; at a one-day Emotion Code Retreat. Dr. Nelson skillfully lay bare the inner workings of the subconscious mind. He reveals how emotionally-charged events from your past can still be haunting you in the form of "trapped emotions". Dr. Bradley Nelson shares tools that in real time remove these trapped emotional energies that have inhabited the body. Dr. Bradley Nelson is a holistic Chiropractic Physician and Medical Intuitive.
During this one day workshop with Dr. Bradley Nelson, participants will discover how to release trapped emotions. Healers, mental and physical health practitioners interested in this transformative therapy will learn how to: 1)Heal underlying emotional sources of illness 2) Access the intelligence of the body and 3) Erase hidden blocks to abundance, health, and love. Emotionally charged events from our past can haunt us for a lifetime. Trapped emotional energies often cluster around the heart, creating an energetic 'wall' that interferes with our ability to give and receive love, to create abundance, and to be totally healthy.
Dr. Bradley Nelson will be joined by KPFK hosts Sonia Barret of the "Expansion Zone" and Christine Blosdale.
Comments by Participants
"This seminar was everything & more than I'd hoped for! I believe you have given me tools to stay well & know when I'm not. The releasing of emotions was powerful – I thank you both for a life changing experience! I can't say enough good about this information and the way you present it! Outstanding! thank you from my heart!" – Yvonne Sappington, Bend, OR
"I truly believe that this seminar on the Nelson Technique is the most powerful information I have ever received. I hope that as many people as possible can attend this seminar and that this information spreads over the whole world." Dave C., Beverly Hills, CA
"You've been given a tremendous gift and I am privileged to have been at the seminar... What better way to understand ourselves and help others in such a profound way. The seminar gave plenty of information in a logical fashion, with adequate practice and Q&A. The reference manual was well organized to help when we're at home. GREAT EXPERIENCE!!" - Heidi Jones, Santa Ana, CA
"Mind Blowing. An extremely valuable investment of time and money." – Odessa P., San Diego, CA
"I really enjoyed this seminar. I learned more about the true meaning of physical wellness and health than I have learned in all my many many years, and I really think that everyone should try this seminar; the hands-on approach is fantastic, and the opportunity to assist others in their own life is the greatest thing you can learn from this." Bonnie B., Pasadena, CA
"This was a fantastic seminar. I learned so much that will be useful to help other people. The content and schedule were well done, and the stories and experiences were good reinforcement to the lessons. I would recommend this seminar to anyone who wants to improve their own balance and well-being, and to anyone who wants to help others. Great course!" - John Ballance, Arcadia, CA
"No fear. Camaraderie. Making the complex understandable. Learning that I do not have to abdicate my health care. Great, loving teacher." – Laura B. Grimmer, Arlington, WA
Venue
Westin Hotel
5400 W Century Blvd
Los Angeles
90045
Dates
The event runs from 10:00am to 6:00pm on the following dates.
Select a date to add this event to your calendar app.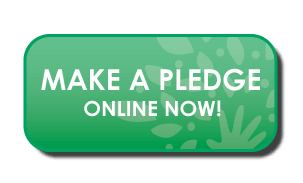 KPFK is a progressive media outlet challenging corporate media perspectives and providing a voice to voiceless communities. Help keep KPFK a strong and independent source of music, arts, news and information.
Los Angeles Area Forecast

Sunny intervals

High: 66°F | Low: 55°F