Snoop Dogg: Once Upon A Time In The LBC
Sunday, July 28th
Event Summary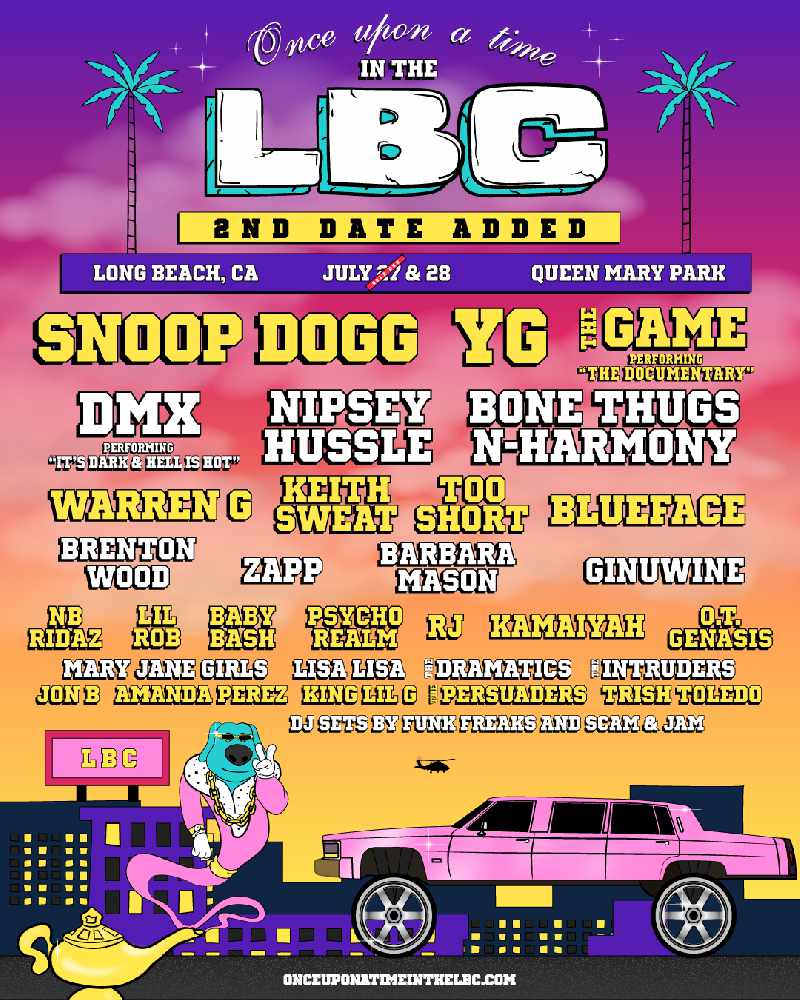 Festival featuring Snoop Dogg, YG, The Game, Warren G And More
Price: $100 - $250
More Information (KPFK 90.7 FM is not responsible for external websites)
Snoop Dogg
Multi-platinum artist, actor and entertainment icon Snoop Dogg is at the forefront of popular culture with award-winning albums and songs, multiple films, lifestyle products, philanthropic efforts, and digital ventures, including his YouTube original series "GGN News." Snoop Dogg has sold over 35 million albums worldwide and received multiple GRAMMY® nominations. Since 1993, he has released thirteen albums and collaborated with artists across all genres of music. Snoop defines hip-hop history. He's set records with his seminal album Doggystyle, which debuted at #1 on the Billboard 200 chart and sold over 800,000 copies in the first week.
This past spring, Snoop released his 13th studio album, BUSH, which debuted at No. 1 on Billboard's Top R&B/Hip-Hop Album chart, marking this as Snoop's sixth chart topping hit. Entirely produced by Pharrell Williams, BUSH is a creative experience and cultural exploration that transports listeners through a journey of sight and sound. BUSH is Snoop's first album on Columbia Records and features collaborations with Gwen Stefani, Kendrick Lamar, Rick Ross and T.I.
Snoop's non-profit work in the community is commendable, as he established the Snoop Youth Football League (SYFL) in 2005 to give children between the ages of five and 13 the opportunity to participate in youth football and cheer. SYFL teaches them the values of teamwork, good sportsmanship, discipline, and academics. Today, SYFL boasts 30 teams, more than 1,200 players and over 75 cheerleaders.
Most recently, Snoop has positioned himself as a savvy and forward-thinking leading in the tech space. In late 2015, Snoop launched MERRY JANE, a media platform which sits at the crossroads of pop culture, business, politics, health, and the new generation of normalized, sophisticated cannabis culture for all. He also recently unveiled his very own cannabis product line, "Leafs by Snoop," which are currently available in dispensaries throughout Colorado.
YG
Like so many rappers after the turn of the millennium, Los Angeles-based rap artist Keenon Jackson (otherwise known as YG or Young Gangsta) got his start by accumulating a wide internet following. The success of "She a Model" and "Aim Me" online earned him a bid with Def Jam, and he signed to the pioneering hip-hop label in 2009. Several mixtapes followed, including 2010's The Real 4Fingaz and 2011's Just Re'd Up, each of which boasted a charting Billboard single. He also became a popular MC, guesting on tracks by Freddie Gibbs, Travis Porter, E-40, Nipsey Hussle, and Young Jeezy.
My Krazy Life In 2013, it was announced that Jeezy would be producing his debut studio full-length, to be titled Im 4rm Bompton, which was slated for a summer release that year. The planned album never appeared, as YG entered the studio with a different producer, DJ Mustard. The album My Krazy Life finally landed in 2014, with Drake, Rich Homie Quan, and ScHoolboy Q among its guests. The album earned positive reviews, and debuted at number two on the album charts. Drake returned for 2016's album Still Brazy, which included more of a political and sociological bent, including the anti-Donald Trump single "FDT."
The Game
After selling millions of albums, being nominated for Grammys, delivering scene-stealing performances in major motion pictures and starring in a hit television program, it may seem like there isn't much to do for an artist.
But Game decided to reach deep into his creative reservoir and deliver the strongest album of his already remarkable career. The conceptually rich, sonically robust and star-studded Jesus Piece is the Compton rapper's fifth studio release, yet it finds Game achieving heightened levels of artistry.
A concept album that focuses on the soul, spirit and emotion, Jesus Piece arrived organically. "The Jesus Piece album concept came together while I was recording a song that eventually became the title track," Game explains. "It was this song that inspired me to create a series of recordings themed around experiences and feelings that I hope everyone can relate to on some level."
Lead single "Celebration" reworks Bone thugs-n-harmony's classic "1st Of Tha Month" single and features Game alongside Lil Wayne, Wiz Khalifa, Chris Brown and Tyga. The feel-good track has become a bona fide sensation, with its barbeque-themed video logging more than 10 million views on YouTube.
Game then turns his attention to the ladies on "All That (Lady)." Building off a sample of D'Angelo's smooth "Lady," Game teams with Lil Wayne, Big Sean, Fabolous and Jeremih to champion women's best attributes, from their ability to bring out the best in a man to their inner and outer beauty.
But Jesus Piece isn't only about fun. It kicks off with the macabre "Scared Now." With hauntinhing braggadocio verse.
The ominous "Ali Bomaye" with 2 Chainz and Rick Ross is a confrontational, take-no-prisoners lyrical exercise, while the piano-accented title track with Kanye West and Common finds Game asking for forgiveness for his transgressions and Common reflecting on his life journey, which has included living on the rugged South Side of Chicago and dining with world leaders.
Turning introspective, Game provides the stirring "Can't Get Right." This wistful look back at selected moments in rap history showcases Game's ability to synthesize several pivotal moments in his life and make them into a compelling narrative. By documenting his work and longstanding relationships with Dr. Dre and Kendrick Lamar, among others, Game provides a rare and poignant look into the behind-the-scenes life and emotions of a rap superstar.
With the soulful "Freedom," Game focuses his own career journey. He takes a call from Birdman on the track, where the two discuss Game's upcoming career path. Nearly a decade into one of rap's most successful careers, Game remains one of its marquee artists.
Even before Game released his first studio album, he has been among the most revered artists in rap. Signed to Dr. Dre in the early 2000s, Game exploded on the music scene in 2004 as the most dynamic member of 50 Cent's G-Unit collective. With the release of Game's debut album, 2005's blockbuster The Documentary, the rapper became the first platinum artist to emerge from the West Coast in several years.
From there, Game broke out on his own, delivering a seemingly endless string of mixtapes and recording his acclaimed The Doctor's Advocate album without either Dr. Dre's or 50 Cent's involvement. The 2006 release featured the hit singles "It's Okay (One Blood)" and "Wouldn't Get Far," demonstrating that Game was his own artist. He was a star in his own right, a performer whose razor-sharp lyricism and virtually non-stop output of top-shelf material made him one of music's most interesting artists.
Game's charisma helped him make a seamless transition to acting. He delivered a hair-raising performance in the 2006 film Waist Deep with Tyrese Gibson and Meagan Good before sharing the screen in 2008 with Keanu Reeves and Chris Evans in the critically acclaimed cop drama Street Kings.
As Game made inroads in Hollywood, he remained rooted in the streets. His third album, 2008's LAX, solidified his status as one of rap's premier artists, while his next album, 2011's The R.E.D. Album, became his third album to hit No. 1 on the Billboard 200.
Now with his Marrying The Game reality show airing on VH1, Game shows with Jesus Piece that music remains his first creative love. Buoyed by an envious list of Grade-A collaborators, Game has delivered a striking artistic statement.
"I have an amazing collection of artists helping me deliver the 'good word,'" Game says. "I hope the fans will receive it as one of their favorite hip-hop albums of the year."
Those who know what they're talking about will.
DMX
There are few more iconic or distinguishable rappers than DMX. With his signature 'gruff' style DMX influenced a generation of rappers & hip-hop fans in the 90s.
Having sold more than 30 million records, DMX is hailed as one of the biggest selling hip-hop artists of all time.
DMX is the original multi-platinum rapper and has secured his place in the hip-hop hall of fame with his back catalogue of anthems.
NIPSEY HUSSLE
Founded in 2010, Hussle's All Money In made an epochal debut with its very first release, "THE MARATHON," marking Hussle's fifth official mixtape and follow-up to his introductory "BULLETS AIN'T GOT NO NAME" trilogy. Named among XXL's "100 Best Mixtapes of 2010," the collection was quickly followed by 2011's "THE MARATHON CONTINUES" and then 2013's "CRENSHAW," the latter proving a media sensation when over one thousand first edition cassettes priced at $100 each were sold out in less than 24 hours at an All Money In pop-up shop in Fairfax, CA. 2014 saw Hussle embark on the nationwide "Crenshaw Tour" before unleashing his next mixtape, "MAILBOX MONEY," this time available in a 100-copy limited edition priced at $1000.
"SLAUSON BOY 2" made its debut in 2016, comprising 17 tracks first released as part of Hussle's weekly #MarathonMonday series. That same year also saw Hussle team with YG for the landmark single, "FDT (F*** Donald Trump)," praised by the Los Angeles Times as "the most prophetic, wrathful and unifying protest song of 2016."
At the end of 2017, Hussle announced his independent label All Money In LLC entered into a strategic deal with Atlantic Records. Hussle's debut album 'Victory Lap,' released February 16, was the first project dropped under the joint venture.
Along with his work as a lead artist, Hussle has previously collaborated with a veritable who's-who of contemporary hip hop, including Kendrick Lamar, Drake, Rick Ross, YG, Ty Dolla Sign, Meek Mill, DJ Mustard, Young Thug and many more.
As if his musical career and role as label boss weren't enough, Hussle is also successful entrepreneur. This year saw the grand opening of his first Marathon Clothing smartstore, a brick-and-mortar retail establishment allowing customers to use smart technology to make purchases and preview exclusive content. Located at 3420 W. Slauson Avenue in Los Angeles, the Marathon Clothing smartstore has drawn wide-ranging media and business coverage, including a major feature interview with Hussle in Billboard.
In addition to The Marathon Clothing line and store, Hussle also owns a number of successful businesses including The Marathon Agency, SC Commercial Ventures, Proud 2 Pay, and of course, All Money In No Money Out Records. He also recently launched a new STEM (Science, Technology, Engineering, Math) initiative with the official opening of the "Too Big To Fail" center in February 2018 in Crenshaw, CA. Created in partnership with Vector90, STEM encourages design thinking and innovation in local youth, centered around impact hubs where neighborhood youth can feed off of each other's talent, creativity, and support.
Venue
Queen Mary Park
1126 Queens Highway
Long Beach
90802
Dates
The event runs from 11:00am to 11:00pm on the following dates.
Select a date to add this event to your calendar app.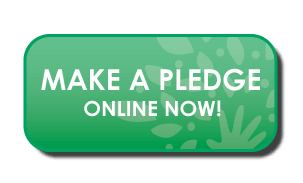 KPFK is a progressive media outlet challenging corporate media perspectives and providing a voice to voiceless communities. Help keep KPFK a strong and independent source of music, arts, news and information.
Los Angeles Area Forecast

Sunny intervals

High: 66°F | Low: 52°F