WRITE YOUR BOOK AND CREATE YOUR PODCAST IN A DAY PACK - Interactive Workshop with Christine Blosdale and Suzy Prudden on Saturday November 13 @ 3PM PT (6PM ET)
To reserve your spot GO TO https://kpfk.wedid.it/campaigns/9791-fall-harvest-drive-2021 and type "Christine" in the search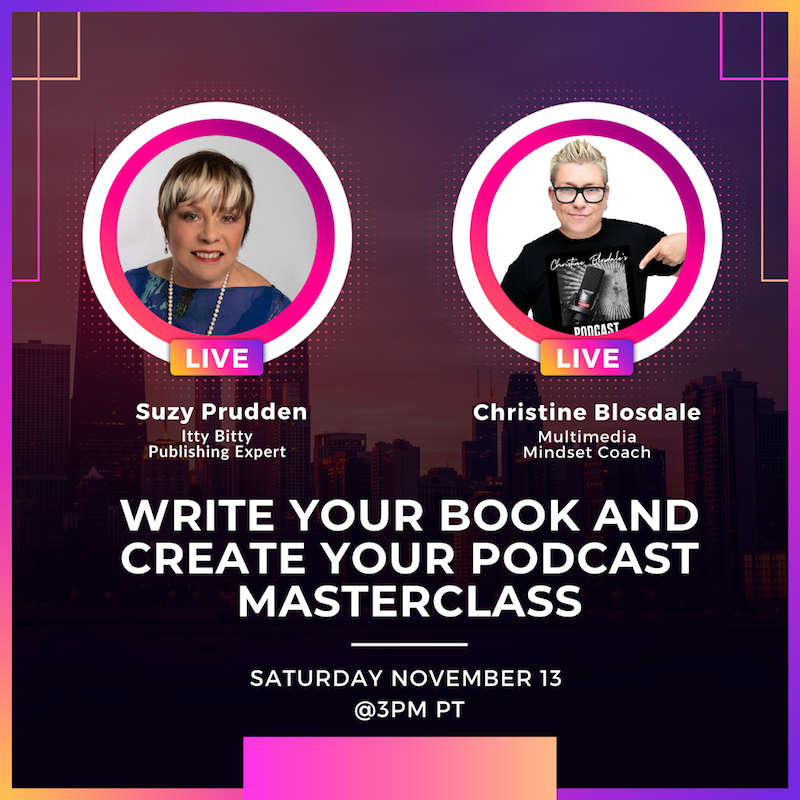 WRITE YOUR BOOK AND CREATE YOUR PODCAST IN A DAY PACK –$250.00 PLEDGE
EMAIL AND PHONE NUMBER REQUIRED!

When you pledge for this EXCLUSIVE pack you will secure a virtual front row seat to the
3 Hour "WRITE YOUR BOOK AND CREATE YOUR PODCAST IN A DAY" Interactive Workshop on Saturday November 13 @ 3PM PT (6PM ET) with Suzy Prudden and Christine Blosdale. This is an intensive and interactive workshop where we get to work with you on your goals.
You will ALSO receive a 4 hour digital online course that shows you how to use your Book and Podcast to not only promote your brand – but how to profit from these powerful business builders as well.
FREE BONUS GIFTS! As part of this Pack you will also receive:
• Eight (8) MP3 guided hypnosis programs to help you write a best-selling book and on creating a wealth and abundance mindset.
• "Your Amazing Itty Bitty How To Write a Book in a Day Book" E-Book
• The brand new "How To Get Booked on Radio and Podcasts" E-Book.
PLUS You get the "Create Your Podcast in a Day" E-Book!
BUT WAIT – THERE'S MORE!
You will also receive a one-on-one 30 minute Strategy Session with Suzy Prudden as well as Christine Blosdale on Zoom to help you create your book and podcast and set your goals for your blueprint of a home based business!
TOTAL VALUE OF THIS PACKAGE IS OVER $4000! YOURS FOR A PLEDGE OF JUST $250
To reserve your spot GO TO https://kpfk.wedid.it/campaigns/9791-fall-harvest-drive-2021 and type "Christine" in the search