Pocho Hour of Power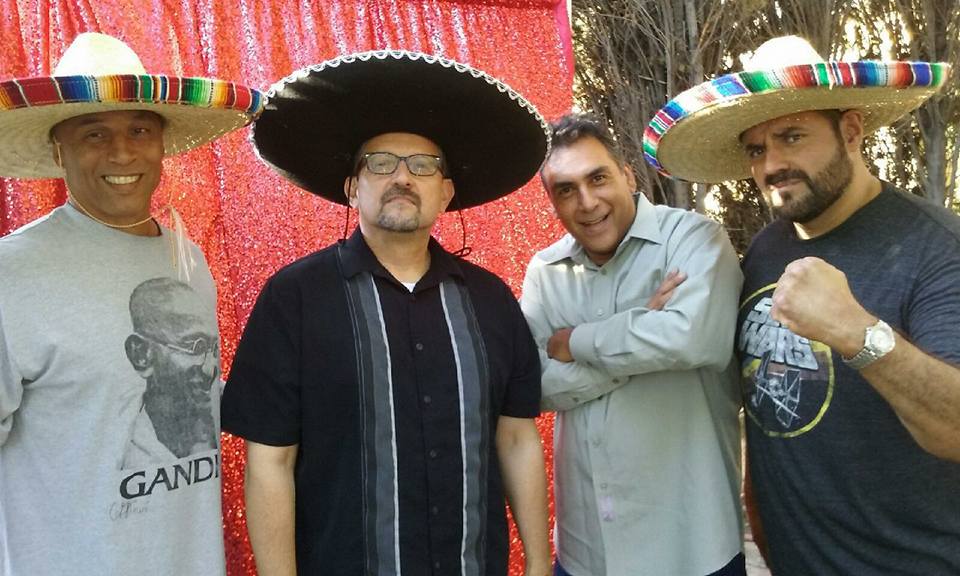 Pocho Hour of Power
VOTED
BEST LATINO-THEMED SOCIOPOLITICAL RADIO TALKFEST
LA WEEKLY

Best Of

: Arts & Entertainment
BEST OF L.A. /// ARTS & ENTERTAINMENT /// 2016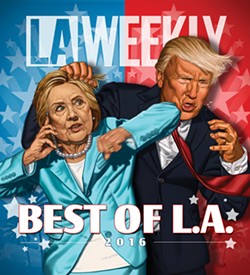 LA WEEKLY: ADAM GROPMAN
While L.A.'s 90.7 KPFK, part of the Pacifica Radio Network, is not generally known for humor or colorfully exuberant personalities, there are a few exceptions, and the Pocho Hour of Power is a notable one. Billing itself as "the nation's only English-language, Latino-themed political satire program," the show and its hosts — Lalo Alcaraz, Jeffrey Keller, Patrick Perez and Esteban Zul — along with producer Gary Baca and music DJ Boxy Dee, maintain a sense of freewheeling fun, deftly weaving thoughtfully respectful discussions on art, politics and personal anecdotes with a vibe of controlled chaos bordering on merry pranksterism. Together they're a kind of super team, fusing Latino consciousness with the broader landscape of L.A. and the world, bringing in acclaimed artists, writers, comedians and activists as guests for an hour that's poignant, funny and fast-paced.
Fridays at 3 PM
News, Music, Comedy & Cultural Arts Variety Show & "Non-Stop Afternoon Party".

Guests include: International & Local Journalists, News-Makers, Documentary Film Directors, Activists, Actors, Writers, Comedians, Musicians, Poets and In-Studio Guests.
Los Angeles Pacifica Radio KPFK 90.7 FM is home to the most raucous, irreverent and politically smart radio talk show anywhere, the L.A.-based Spanglish-slinging Pocho Hour of Power. Co-hosted by nationally syndicated daily newspaper cartoonist and comedian Lalo Alcaraz, satirist and filmmaker Esteban Zul, comedian/actor Jeff Keller and wild improvista (often seen on MADtv) Paul Vato, with producer Gary Baca the volatile breakout hit show has attracted a vast audience, star guests and IRS scrutiny. On any given Pocho Hour of Power you can hear satirical radio sketches, politically charged parody songs and even serious public affairs segments.
Producer: Gary Baca - gbaca@kpfk.org
Email: ThePochoHourOfPower@KPFK.ORG
Lalo Alcaraz Nationally syndicated political cartoonist, and creator of La Cucaracha, the daily comic strip + radio host @ LA's KPFK Radio 90.7 FM's Pocho Hour of Power www.pocho.com
Alcaraz is known for being the author of the comic La Cucaracha, the first nationally syndicated, politically themed Latino daily comic strip. Launched in 2002, La Cucarachahas become one of the most controversial in the history of American comic strips. He is also the creator of "Daniel D. Portado", a satirical Latin character who in 1994 called on Mexican immigrants to return south—"reverse immigration"—as a response to the controversial Proposition 187.
A leading figure in the Chicano movement, Alcaraz formerly contributed political cartoons for LA Weekly from 1992 to 2010. He co-hosts a radio show on KPFK called the "Pocho Hour of Power." He also contributed a work of art to the 2008 Obama campaign called "Viva Obama". He recently taught as a faculty member at Otis College of Art & Design. Alcaraz was also Consulting Producer and Writer on the Seth MacFarlane–executive produced animated show (created by Family Guy show runner Mark Hentemann) Bordertown, which ran one 13-episode season on Fox. It featured the first animated Mexican-American or even Latino family on primetime American television. Lalo also served as producer along with Gustavo Arellano on comedian Al Madrigal's TV special for Fusion, Half Like Me. Alcaraz also consults on films, including Pixar's Coco (2017). He is also a TV animation producer and consultant at Nickelodeon. Alcaraz is also a performer, performing as an angry mariachi in Pixar's "Coco" (2017) and has portrayed a Mexican bounty hunter named "Royce Vargas" in the Bill Plympton/Jim Lujan animated feature film, Revengeance (2017).
In addition to the daily strip, Alcaraz has published 4 books, La Cucaracha (Andrews McMeel Publishing, 2004), Migra Mouse: Political Cartoons on Immigration (RDF Books, 2004), "Latino USA: A Cartoon History", (Basic Books 2000), also the 15th Anniversary Edition of Latino USA and "A Most Imperfect Union", (Basic Books 2014), another history book in collaboration with Ilan Stavans. Alcaraz is also an active speaker on the college circuit. He is represented by The Agency Group in Los Angeles.
Lalo Alcaraz is "Jefe-in-Chief" of POCHO.COM, a website specializing in "Ñews y Satire".
Alcaraz has received five Southern California Journalism Awards for Best Cartoon in Weekly Papers, and numerous other awards and honors, including "The Latino Spirit Award" from the California Legislature and the Office of the Lt. Governor, honors from the Los Angeles City Council, The California Chicano News Media Association, the UC Berkeley Chicano Latino Alumni Association, the United Farm Workers of America, the Los Angeles County Federation of Labor, the Center for the Study of Political Graphics, and The Rockefeller Foundation.
Jeffery Keller
Comedian/ Writer and co-host of the Pocho Hour of Power on KPFK 90.7 FM.
An ex NFL player, Keller played football at Washington State from 1978 to 1981 and drafted 11th round 1982 Atlanta Falcons
Keller can be seen performing his stand up at various comedy spot's in Southern California such as the Ice House. At a young age Keller was influenced by comedian's Richard Pryor and Paul Mooney. He is currently acting and writing for TV and movies. Keller lives in Hollywood and grew up in Los Angeles, Baldwin Park area.
Esteban Zul was a founding member of the rap group Aztlan Nation from Berkeley, California. He was introduced to Alcaraz through Pocho producer Gary Baca and along with Alcaraz published Pocho Magazine, thus creating the Pocho Hour of Power. As of now, Zul is a world traveler and currently writing for movies.
Producer: Gary Baca
aka G-Spot was born and raised in East Oakland. Baca began his radio career at KALX Berkeley before initiating his radio programming at KPFA Berkeley which then lead him to KPFK Los Angeles.

In previous radio programs, Baca's featured presentations have included interviews with Lisa Lisa, Rick James, Morris Day & The Time, George Clinton, Boy George, Tito Puente, Macy Gray, Roger Troutman & Zapp, Bootsy Collins, WAR, James Brown and Cameo, Rakim, The Commodores, Buddy Miles, The Doors, Earth, Wind & Fire, Johnny Mathis and Carlos Santana.

Now celebrating 30 years of radio programming, he is also a concert emcee introducing such acts as Ice Cube, Cameo, Cypress Hill, DJ Quik, Too $hort, E40, Tierra, Malo, The Dramatics, Rappin 4Tay, & Sheila E.
KPFK 90.7 FM's Pocho Hour of Power provides a smartly satirical look at political issues facing Latinos in America. Co-hosted by cartoonist Lalo Alcaraz, filmmaker Esteban Zul, comedian's Jeff Keller, Paul Vato, and producer Gary Baca the show brings its raucous brand of satire.