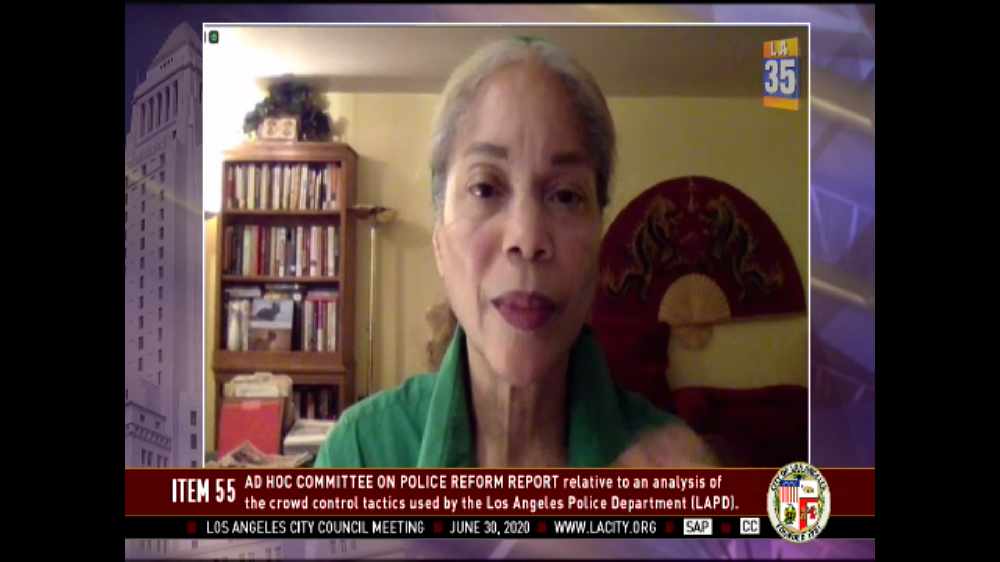 Civil rights attorney Connie Rice speaking remotely during Tuesday's L.A. City Council meeting
By Dan Fritz | KPFK
The Los Angeles City Council voted Tuesday to formally review the tactics used by LAPD officers during protests against police violence that began at the end of May and continued into June.

The review will include investigations into incidents of excessive force, including the firing of rubber bullets, the use of tear gas; and, the review will include an analysis of whether the police took adequate precautions to stop the spread of COVID-19.

Civil rights groups, including the ACLU, accused the city of imposing draconian curfews to criminalize peaceful protest. The review will include a look at how police engaged with people breaking curfews, along with an analysis of other ways the police may have infringed on constitutionally-protected rights, including blocking peaceful protesters from marching.

A similar review was done in 2007 in the aftermath of a massive protest on May Day that turned violent. The author of that report, Gerald Chaleff, is again being sought by the city to write the new review.

The council heard Tuesday from civil rights attorney Connie Rice. Council member Herb Wesson praised her, saying "there is not a better expert, in the world, to give us guidance on this type of thing... no one, other than Connie Rice."

The council turned down a proposal by the National Police Foundation to fund the review with a $350,000 donation, after Rice told the council that the foundation isn't independent from the department itself.

"In the recent protests, like for every other profile incident: the Mac Park police riot, the post-Rodney-King verdict, it's very important that independent outsiders do the analysis," said Rice. "No police department that I've ever sued or worked with, is capable of analyzing its own actions in the aftermath of a controversial incident."

Many of those detained during the protests were put on buses. Some have reported that they were packed in too tightly to maintain physical distancing, exposing them to COVID-19 infection. They blame the LAPD for imposing curfews to give police a pretense to arrest and pack them on the buses to discourage their activism.

"We want to make sure people have a right to exercise their rights," said council member Gil Cedillo. "This is a famous statement by Martin Luther King, 'the great thing about America is people have the right to protest for their rights.'"