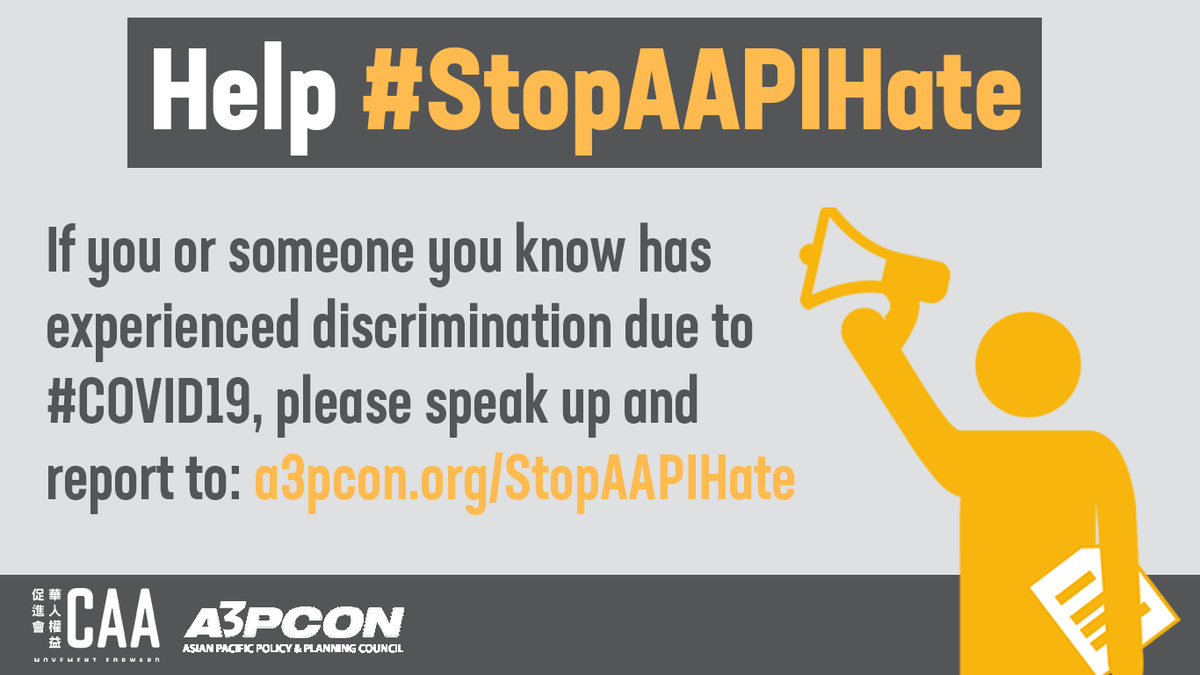 Image courtesy of A3PCON
By Dan Fritz | KPFK
Preliminary police data show that hate crimes against Asian Americans in Los Angeles while under California's stay-at-home orders have been surging. While there was just about one reported hate crime in Los Angeles last year, five were reported during the pandemic.
And while businesses are closed and most people are staying at home as ordered, hate crimes overall are down. With few people in the streets and even less at businesses, said Brian Levin, Executive Director of the Center for the Study of Hate and Extremism at California State University, San Bernardino, there's less opportunity for hate crime. But that hasn't stopped this surge in anti-Asian hate in many cities.
"We've had more hate crimes in a little over a month against Asian residents of New York City than we've had in any of the last five years at least," said Levin. Not all cities are reporting a surge. L.A., NYC and Vancouver are; but Chicago, Seattle and Washington D.C. are not. Levin cautions that the data are preliminary and subject to change, likely with the addition of more incidents.
Levin said it takes the FBI two years to come out with solid hate crime statistics. So researchers have to wait before the size of this anti-Asian hate crime surge becomes definitively clear. He'd be "highly surprised" if it doesn't turn out to be a national trend.
All indicators, said Levin, including online hate searches and self-reported hate incidents, are surging.
"The numbers don't give the full story of the hate and vitriol that a lot of individuals across the country are experiencing," said Manjusha Kulkarni, Executive Director of the Asian Pacific Policy and Planning Council, who along with other advocates and researchers launched the online Stop AAPI Hate web portal to track hate incidents against Asians during the pandemic. After just a month, 1500 incidents have been reported.
"A young woman here in Los Angeles was basically assaulted by a homeless individual who tried to punch her and kick her dog," said Kulkarni. "A number of doctors have reported hateful comments from patients, as well as comments from their colleagues, even their supervisors."
Kulkarni noted that the self-reported hate incidents tracked by Stop AAPI Hate spiked earlier in the pandemic and began in Los Angeles before any known local infections. A spike coincided with President Trump insisting in early March on referring to COVID-19 as the "Chinese virus." When he stopped using that phrase and called for an end to attacks on Asian Americans on Twitter, incidents went down.
"That pause looked temporary," said Levin. "There was a pause in some places and in some virtual spaces. It went back up afterwards, unfortunately."
Kulkarni and Levin are both concerned that when stay-at-home orders are lifted, another spike will occur.
"If 9/11 provides any lessons, in terms of backlash, I think it's going to be quite significant," said Kulkarni. "We've hit the 60,000 mark in terms of COVID. I think you're going to see a lot of politicians use this as an opportunity to foment hate and policies that target, racially profile and surveil Asian Americans."
Levin said there's more to the surge in hate than COVID-19. "Extremist movements world-wide doubled over the last decade. We're being manipulated, not just by the hate-mongers... the conspiracy theories are overflowing," he said. Anti-Semitic conspiracy theories related to the pandemic are trending, along with the anti-Asian theories and memes, according to Levin.
The election of President Donald Trump in November 2016 brought the largest spike in hate crime since September 2002, the first anniversary of the Sept. 11 attacks. And with "catalytic events," said Levin, "all kinds of social science data show a surge in all kinds of hate."
As people are finally able to leave their homes, some of which have turned into a kind of hate-filled pressure cooker, "people are stressed," said Levin, and when they're allowed to return to places of business or to ride public transit, the two most common hate crime scenes, "and you hear somebody cough, okay, someone will have that emotional response. But for someone who has been primed to have this idiosyncratic hatred of Asian people... that could be a big problem."
Please help us continue to adapt and strengthen our community services by giving what you can today.