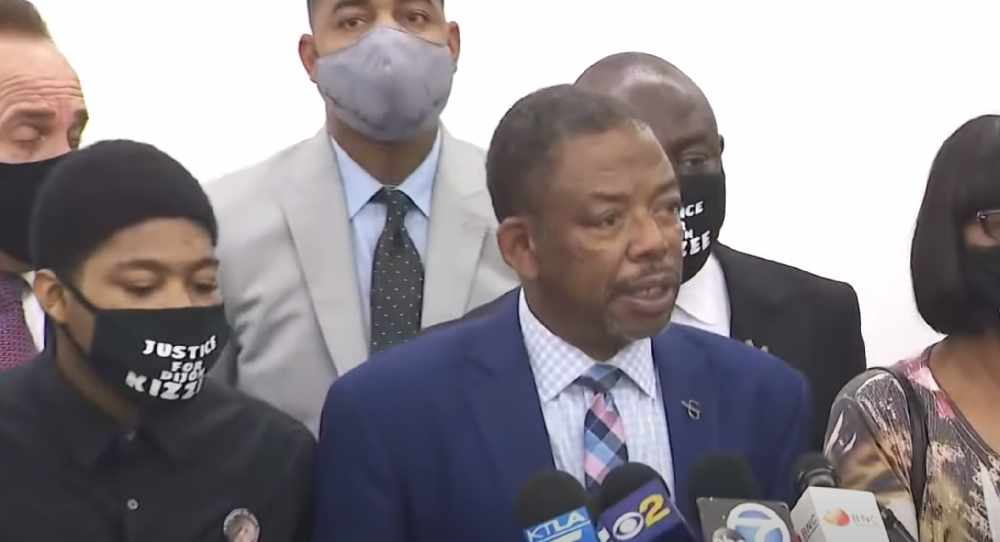 Kizzee family and their attorneys at announcing the autopsy results Tuesday
Dan Fritz | KPFK
Attorneys for the family of Dijon Kizzee this week announced the results of an independent autopsy which they say show that he was shot repeatedly while he was on the ground.
"He put his hands in the air, dropped the bag, and they continued to shoot him," said Kizzee family attorney Ben Crump, at a press conference on Tuesday. "Even though he posed no threat."
Kizzee was shot and killed by two L.A. County sheriff's deputies at the end of August. L.A. County Sheriff Alex Villanueva last week released a series of videos capturing portions of the confrontation between deputies and Kizzee.
The sheriff's department contends Kizzee had dropped a gun during the initial confrontation with deputies, then picked it up and raised it toward deputies, prompting them to open fire, hitting him 19 times. Deputies initially tried to stop Kizzee while he was riding a bicycle, claiming he was riding on the wrong side of the street and weaving through traffic, sheriff's officials said. When deputies caught up to him, a physical struggle ensued, during which Kizzee allegedly punched one deputy in the face and dropped a handgun he was carrying, concealed in some clothing.
But at the news conference Tuesday in Ladera Heights, the Kizzee family attorneys denounced the sheriff's version of the events and insisted that Kizzee was shot with his hands in the air and then repeatedly shot while he was on the ground.
Attorney Carl Douglas said the independent autopsy conducted for the family determined that at least seven of the bullets entered Kizzee from the back.
"From the witnesses, there were three or four shots and then a pause, and then a second volley. From what I could see he was on the ground because there was dust flying up in the air," Douglas said. "There were flashes from the shots long after he was no longer a threat. And that says to me something was wrong."
Douglas said there was no attempt to de-escalate the situation. He called Villanueva's video release and characterization of the incident a "sideshow."
The shooting of Dijon Kizzee has prompted a series of protests outside the South Los Angeles Sheriff's Station, leading to three dozen arrests.