By Dan Fritz | KPFK
As public life was brought to a standstill in California due to the novel coronavirus outbreak, forty-five advocacy, labor and community groups came together to sign a joint letter calling on all levels of government to not let immigrants fall through the cracks.
The comprehensive list of recommendations calls for, among many other things, the federal government to halt all immigration enforcement activities and to include immigrants "independent of status" for public and safety net assistance. It also calls on the federal government to extend the response time for the 2020 U.S. Census.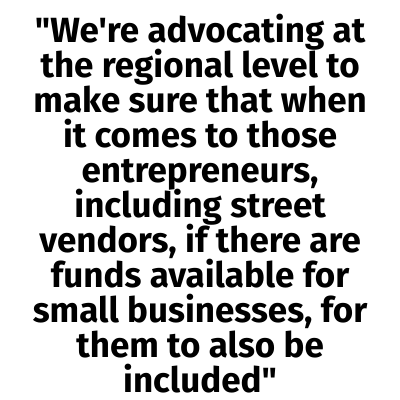 "It is unfortunate that ICE has gone back and forth in their message," said Joseph Villela, Director of Policy and Advocacy with CHIRLA, the Coalition of Humane Immigrant Rights of Los Angeles. "Our hope is that there will be no enforcement until we control the situation."
In addition to fears of overcrowded detention centers becoming hot zones for COVID19, advocates are concerned that immigrants will fall through the cracks of the economic aid efforts.
On the same day the L.A. City Council passed the first round of emergency motions proposed by Mayor Eric Garcetti, the council also canceled a grace period for street vendors operating without a license. That grace period was set to last until June.
And the original moratorium called for a ban on all street vending, regardless of permits. The city attorney advised the council not to go forward with a full ban.
After a decade-long struggle to legalize street vending in the city that sees street vending as part of the cultural heritage, culminating in a big win for advocates just over a year ago, the practice was immediately queued up for the chopping block under the first round of emergency actions as part of the effort to slow the spread of the novel coronavirus. There was no debate on whether street vending could be done hygienically, or maybe could be a safer alternative to cramped restaurant kitchens still cooking food-to-go.
"We're advocating at the regional level to make sure that when it comes to those entrepreneurs, including street vendors, if there are funds available for small businesses, for them to also be included," said CHIRLA's Joseph Villela. "They are small business owners. The city and county is asking them not to go out."
Community Media exists because of you, donations from people like you sustain KPFK and allows us to discover stories that are important to our audience. If you believe in what we do and support our mission, please donate today.