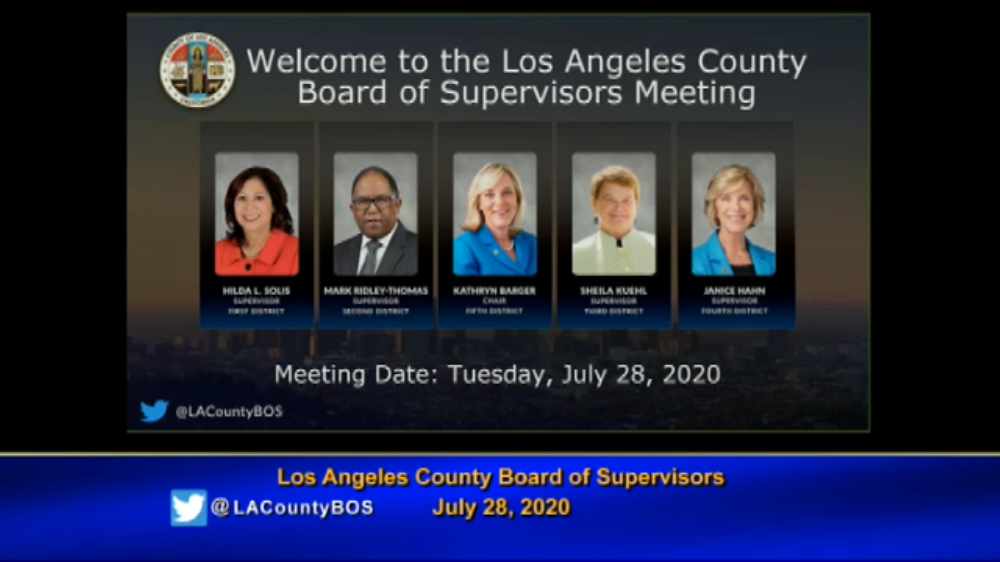 Dan Fritz | KPFK
Residents of L.A. County will vote on a new charter amendment to require a minimum of 10% of the county's general budget go towards direct community investment and alternatives to incarceration.
The L.A. County Board of Supervisors gave the ballot measure final approval Tuesday in a 4-to-1 vote.
Support for the proposal came in from among a variety of residents during the Supervisors' meeting Tuesday.
"Since cityhood, our city has a record of commitment to investing in care and supportive services to our residents to those most in need," said West Hollywood Mayor Lindsey Horvath. "We believe it is time for L.A. County to make that same commitment. Systems of care and systems of accountability must go hand in hand."
The commitment of roughly 360 million dollars per year to community investment meant to help people stay out of jail is the culmination of a years-long campaign by justice reform advocates.
"Right now the L.A. County budget is unreliable and unfair and it doesn't invest in the vision that this board has already set in motion over the course of your tenure," said Ivette Alé with Dignity and Power Now. "Giving L.A. County residents the opportunity to vote on this initiative only reinforces the good work of this board that you have set in motion. And it aligns this county's work with the values of this county. Overwhelmingly, this county supports the change that you all have initiated, a change that will bring on health and equity, and actually gets to the root causes of problems rather than being reactionary to those problems."
Alé and other advocates call the 10% a floor, not a ceiling. They want voters to approve the charter amendment to ensure a solid base of funding as the county shifts dramatically away from the old incarceration-based model.
But opponents at Tuesday's meeting called the charter amendment irresponsible. Supervisor Kathryn Barger voted no, and agreed with county CEO Sachi Hamai that a 10% charter requirement would make future budgeting and priority shifts much more difficult, especially during economic downturns.
Barger also said that she thinks the charter amendment would violate the law.
Sheriff Alex Villanueva, whose department takes a large chunk of the county's general budget, much of it through overtime, said the measure would force him to close patrol stations and make other cuts that would threaten public safety.
Supervisor Sheila Kuehl pushed back against the idea that the board's goal is to defund law enforcement.
She said what they're doing is not defunding, but "right-sizing." And she noted that the jail population has dropped by nearly 30%, while spending has gone largely unchecked.
The question will go before Los Angeles voters on the November ballot under its title, "Re-Imagine L.A. County."