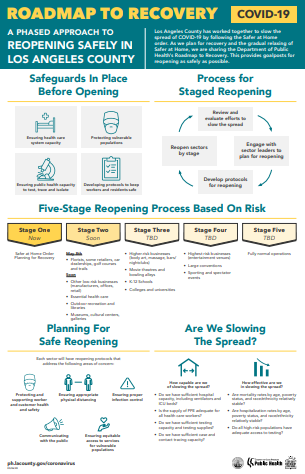 L.A. County's Recovery Plan
By Dan Fritz | KPFK
As more and more businesses come back online in Los Angeles, including pet-grooming and car washes as of Tuesday, vast portions of the economy remain locked down, despite looser guidelines announced by Gov. Gavin Newsom on Monday.
While many counties will be able to take advantage of Newsom's looser standards, (the state initially called for no COVID-19 deaths for two weeks as part of the criteria, prompting pushback), L.A. County is expected to lag behind.
"L.A. County is in a different position than other parts of the state," Newsom said.
The new rules require 5% maximum increase in hospitalization rates for a week, 8% or lower positive coronavirus testing rate, and 15 trained patient-contact-tracing workers per 100,000 people.
"While L.A. County wasn't listed yet as one of the counties that could receive a variance... it is something we as a county can prepare ourselves for. These are complicated issues," said Barbara Ferrer, head of the Los Angeles County Department of Public Health, at the county's Tuesday coronavirus briefing. Ferrer confirmed that the county still has a higher-than-allowed positive testing rate, 9% as of this week.
L.A. County leaders have announced that they're targeting July 4 as the "safe reopening" of the local economy. That goal was announced this week during a meeting of the county's Economic Resiliency Task Force, convened by county leaders to shape recovery efforts.
Following that meeting, chair of the task force, County Supervisor Kathryn Barger, issued a statement confirming that the goal is to reopen by July 4.
"I understand the urgency to reopen and know many of the experts the county has assembled for this task force have been working hard to develop safe and efficient plans to revitalize their sectors as early as next month," Barger said in the statement.
At Tuesday's coronavirus update, L.A. County leaders stressed that July 4 is just a goal, and efforts will continue to reopen as soon as is safe.