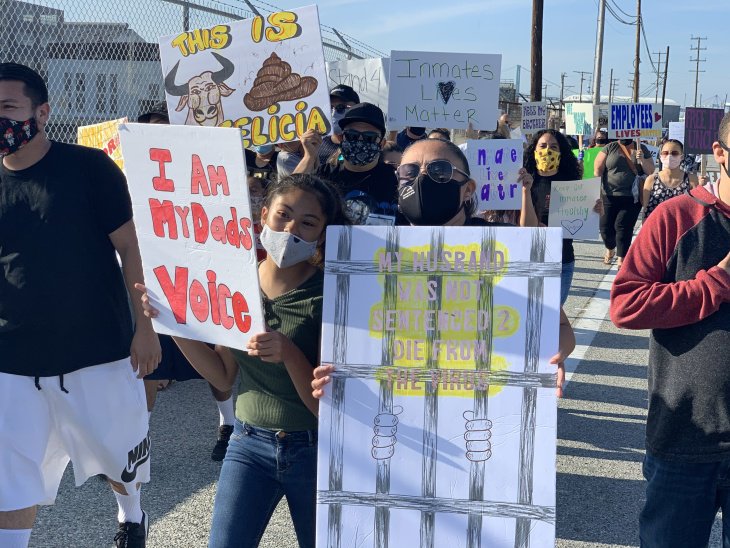 Families and advocates for prisoners at the federal lockup in San Pedro call for the release of non-violent prisoners due to risks from the coronavirus.
By Ernesto Arce | KPFK
Prisoner advocates and now elected officials are fighting for the livelihoods of prisoners at the Terminal Island federal corrections institute in San Pedro.
Nearly half of prisoners and about 15 staff members have tested positive for the coronavirus. The ACLU of Southern California filed class-action lawsuits in US District Court in Los Angeles on behalf of prisoners there as well as at the federal prison in Lompoc.
San Pedro Congress member Nanette Diaz Barragan toured the facility recently and told CBS News that many inmates are in distress.
"There were men screaming in there," says Diaz Barragan. "They were asking for help. They were asking for them to urn on the air conditioning. When I say asking, I mean they were screaming."
John Kostelnik, with the California Corrections prison guard union, said the federal prison system doesn't seem to have a basic handle on emergency protocol during the pandemic.
"It is absolutely concerning," says Kostelnik. "First, it was wear the PPE the all of a sudden it came down to don't wear masks. And it seems that every meeting we had with these departments, things were changing."
The terminal island prison, which opened in 1938, is considered a low-security lockup. Both state and local officials have called on the prisons to release such inmates especially those with underlying health issues.
While the state and LA County have reduced their populations, federal lockups haven't.
Barragan says besides her backing of the lawsuit, she will ask Congress to intervene immediately.
"Time is of the essence because of the health and safety of inmates and you see the numbers and it's causing a red flag."
Both suits ask the court to direct the prisons to release people who have vulnerable medical conditions.