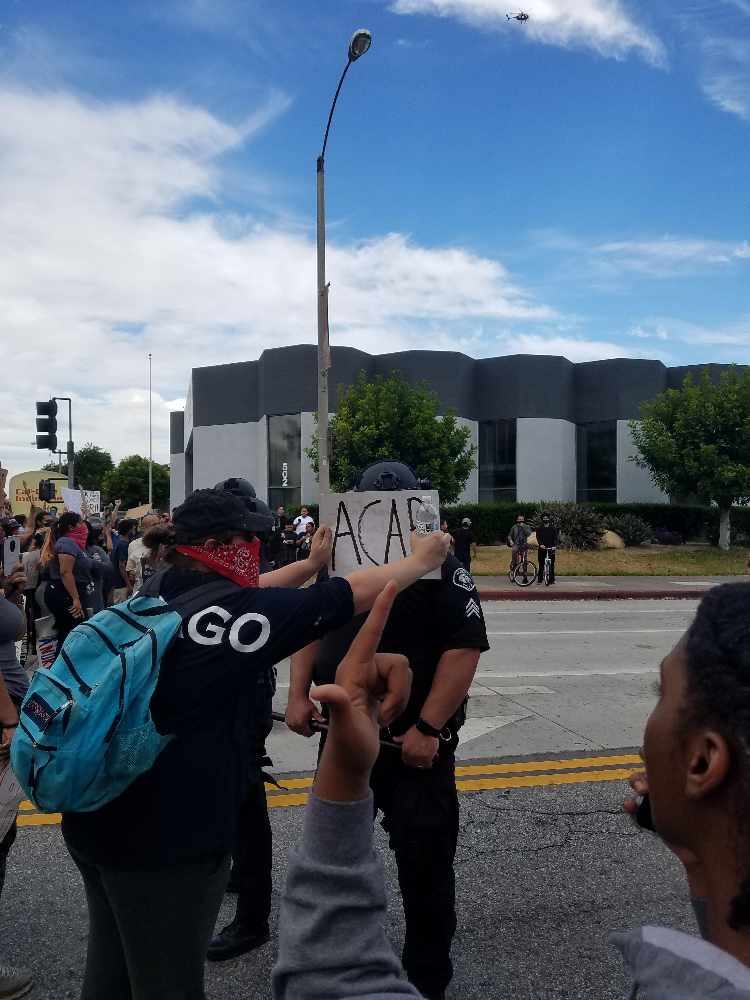 Protests across Los Angeles County continued with the killing of 18 year-old Andres Guardado by Sheriff's deputies (Photo: Ernesto Arce)
By Ernesto Arce | KPFK News
The killing of an 18 year-old Latino security guard whose family says was shot in the back by Sheriff's deputies in Compton last week has led to more protests and division among LA County officials.
Andres Guardado was talking with someone in a car when two deputies on patrol arrived just before 6pm Thursday at the Freeway Body Shop where he worked as a security guard.

Sheriff's Homicide Capt. Kent Wegener said Guardado looked toward deputies, produced a handgun, and ran down the driveway of the bodyshop. Deputies chased him and caught up with him behind the business where one deputy fired six shots at him. The Sheriff's report says he was struck in the upper body, his family says he was shot in the back. He was pronounced dead at the scene.

What's troubling to family and friends and even his coworkers at the body shop, is that deputies confiscated all the security camera footage.

Mariela, his sister, told reporters that the Sheriff's department is not communicating with the family and is ignoring their requests.

"They won't let me or my family see my brother's body. And I want to see my brother's body," said Mariela, who also disputed the department's allegations that her brother had a firearm on him. "It's not his gun. Y'all framed him. Someone else did or y'all did."

The killing and subsequent protests led to a spat among LA County officials. Most notably, Supervisor Mark Ridley-Thomas and Sheriff Alex Villanueva. Ridley-Thomas called for an independent investigation and criticized the lack of body cameras while Villanueva blamed the Supervisor for the delay and implied the Board of Supervisors were continuing to throw the department under the bus.
A protest over the weekend began peacefully as more than 100 people began marching down West Redondo Beach Boulevard to the sheriff's Compton station. Protesters wore masks and held signs asking, Where's the footage? and He ran because he was scared.

Sheriff's officials declared an unlawful assembly a couple of hours later leading to violent clashes with protesters. They shot rubber bullets, sand bags, and tear gas at the crowd that included journalists.
Nanette Diaz Barragan, a Los Angeles congress member called on California Attorney General Xavier Becerra to conduct a full investigation into the shooting.
She released a statement saying "Another day, and another Black or brown kid has been shot by police. These killings must stop... We demand answers and call for an independent investigation in this
tragic death."

The Sheriff's department released a full statement on the killing saying Guardado didn't have a security guard uniform nor a proper permit. They also said the gun they allegedly recovered at the scene had an illegal auto trigger.