Connectopod: Changing the Narrative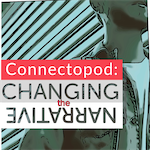 Hosts: Betsy Foldes Meiman, The TAY
Co-host: Andrea Longoria Lopez
Producer: Betsy Foldes Meiman
Sound Engineer: Joe Foldes
Theme song, True by Haunted Horses NYC
Drop in Center Youth Liason: Alejandro Soria
Listen to Connectopod on KPFK.ORG HERE
Changing the Narrative is a Connectopod series created with youth in communities that get a bad rap in the media. In our third season, Changing the Narrative: Unhoused Youth, we are in residence at The Village Family Services in North Hollywood working with the drop-in center. The TAY (Transitional Age Youth) get personal about homelessness, including issues surrounding mental health, LGBTQ discrimination, pandemic madness, domestic violence, attending college, finding work, dealing with addiction, and how to rise above their situation. Mostly, they just want to do what all young people do-figure out who they are.

The series content is created in one-on-one interviews. Then the TAY will work remotely and individually with a professional media guest artist to create an episode about whatever they want, however they want to tell it. Will it be personal narratives? Straight out journalism? Activism? Creative fiction? Music? Comedy? It is their story to tell.
Current Season: https://www.connectopod.net/changing-the-narrative-unhoused-you
Connectopod Bio:
Betsy Foldes Meiman, an award-winning narrator of films, books, and tv series, teamed up with youth advocate, community builder, and non profit program director Andrea Longoria Lopez in 2018 to create Connectopod, using podcasting to empower youth with skills, confidence, a platform, a linkable portfolio, and access to a professional network of mentors.

Connectopod has teamed up with many organizations including but not limited to: The Social Justice Learning Institute, LAUSD Haskell Steam, CSUN Chicanx Studies, LAUSD Vaughn Next Century Learning, and the Los Angeles Public Library. They have been recognized for their work by Congressman Tony Cardenas, and won grants for their curriculum from The California Arts Council, NBC 4/Telemundo Project Innovation, UCLA/Kaiser Permanente Center for Health Equity, and Tiger Baron Foundation, among others.
Contact email: BFMeiman@connectopod.net
Instagram: https://www.instagram.com/connectopod/
Website: https://www.connectopod.net/changing-the-narrative-1