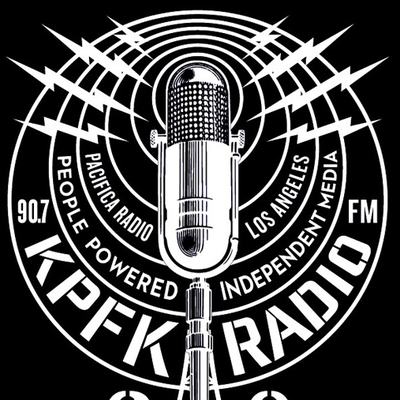 By Alan Minsky
This week, KPFK entered into its first conventional Fund Drive since February. So it seems as good a time as any to reflect not only on the continuing merits of the station, but also its unparalleled promise at the top of the second decade of the 21st century.
This may seem like misplaced optimism, given two things in particular: 1. the well-documented troubles of KPFK and Pacifica over the past decade, and 2. the decline of the radio industry in the digital age. Well, per number one, there's no denying that KPFK is still here, and if a decade of ever-escalating internecine warfare couldn't knock out KPFK, it's well-nigh time we make the best of it; and, per number two, why be limited to radio? KPFK's powerful FM signal remains a tremendous asset, one that can serve as the foundation upon which a 21st century multi-media institution can arise.
The COVID-19 crisis has caused the most abrupt and distinct break in how Americans live day to day since, at least, the Civil War. While it remains unclear whether much will be different in American society after the pandemic, we don't need to be passive witnesses to what unfolds. American society is certainly in need of a significant makeover, and we can force positive changes through acts of collective will. This is likewise true for any household or institution, such as KPFK.
Now, if we take the measure of Southern California society and the myriad roles that KPFK can play in it coming out of the pandemic, there are many possibilities. Today I want to focus on two major openings I see for the region's original public media institution: one pertains to KPFK's political journalism; the other to its music, arts, and cultural programming and its relationship to the 15 to 20 million people in its signal areas.
One, KPFK should continue as an unabashed journalistic champion of social, economic, racial, and environmental justice at the local, state, national, and international levels. That's the right thing to do, of course, and it suits the region's politics, which have been shifting dramatically to the left over the past quarter-century. Since no other 24/7 media outlet presents itself as an unapologetic champion of social justice, this should be a winning strategy - a slam dunk even.
However, as part of KPFKs re-introduction to the public post-COVID, I think it should proceed in a more systematic way - especially as a locally-based station. What do I mean? In the best tradition of American progressive journalism KPFK should focus on holding the powers-that-be accountable. Think Ida Tarbell. In particular, we should use our digital platforms, and social media, to curate our journalism so that it informs the public about what exactly is blocking the progress they desire.
Let me be clear, this would not jeopardize KPFK's non-profit status. Such a project would be 100% non-partisan. Indeed, almost all of the elected officials in central LA County - who tolerate soaring rents, racist policing, food desserts in poor communities of color, and legions of homeless people - are Democrats. Indeed, given the degree to which Southern California has become a one-party region, the people need progressive journalists more than ever to hold elected officials accountable - and, simply put, no other outlet than KPFK is poised to fight that good fight.
If KPFK can add this one element to its already excellent progressive journalism - i.e. keeping track of what precisely is blocking the progressive agenda that most Southern Californians support (and think they're voting for each election cycle), and then demanding accountability - the public will reward the station. Not only for providing more essential information, but for creating a "narrative throughline" that will make greater sense of the otherwise amorphous-seeming world of politics where the good guys always seem to lose and no one explains why. This has led to cynicism, disengagement, and the perpetuation of endemic social problems. The creation of a narrative throughline, in contrast, will make the path to victory clear.

How would it work? Let's take the example of a hypothetical proposal to Defund the LAPD. Let's say a progressive City Council member calls for five-hundred million dollars to be re-allocated from the LAPD budget to social services. Let's say six City Council members support the proposal, six oppose, and three are on the fence. KPFK will turn this into a vote that everyone in the City knows about and follows. Thus, the three City Council people on the fence will be petitioned by their progressive constituents like never before - the six "yes" votes will be certain of easy re-election - while the six "no" votes will be opposed by a unified left when they try to win another term. And then, after all that pressure produces a victory in the City Council, the bill will land on the Mayor's desk - who will have to decide which side he/she is on.
KPFK should track every major piece of local legislation in this manner. If it does so, it will massively raise the profile of the station; and transform Southern California politics and society for the better.
Two, back when all that KPFK could be was an over-the-air radio station, before the turn of the century, almost all radio stations had become single format outlets: i.e. only political talk, or only country music, etc. In contrast, KPFK, a multi-format station, had become a dinosaur. Many radio professionals, when assessing the station, would focus on this, saying it was central to the station's struggles.
However, a quarter century into the digital age, I'm wondering if the tables haven't turned. Could this burdensome anachronism prove a salvation? Here's one idea for parlaying our music, arts, and literature programming into success.
There's not a single major media platform in SoCal committed to bringing forth local talent. This is not surprising given how clunky such content can prove. However, given this void, there must be significant grant money available for highlighting new and local artists; as well as for partnering with the region's public schools and colleges in such a project.
In contrast to only a few decades ago, American society seems to have little use for arts and culture. Not so Pacifica. The network's legendary mission makes a firm commitment to the arts; and to nurturing the higher expressions of the human spirit - definitely something worth promoting in a society seeking regeneration after the dual traumas of Trump and the pandemic, let alone the looming existential crisis of the climate emergency.
This could be readily achieved by KPFK devoting a few hours each week to such locally-based programming; with longer-form versions featured on our digital platforms. These projects would re-introduce KPFK to communities around Southern California as an organization that actually follows through on something that everyone else just gives lip service to - supporting local arts. Also, as up-and-coming artists are invariably on the young side, with young fan bases, such a project would introduce KPFK to new generations of listeners.
These are just two ideas, among infinite possibilities, for the renewal of one of the most important institutions in Southern California's history, KPFK.
Given that the station survived more than a decade of malignant governance, it looks like KPFK is going to be around a while longer. Let's put this incredible public asset to the best use possible. Give what you can during the current drive.