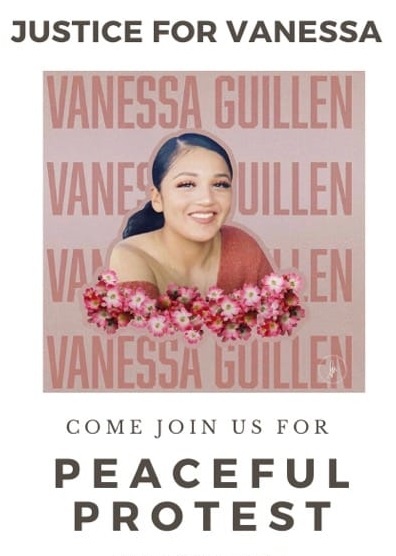 Vigils and protests outside of military offices are taking place across SoCal in memory of Vanessa Guillen (Artwork courtesy of Find Vanessa Guillen, Facebook)
By Ernesto Arce | KPFK News
Several SoCal rallies are planned this weekend to commemorate the life of Vanessa Guillen, an Army soldier from Houston who went missing in late April. The 20 year-old's body was reportedly found this week next to a river near the Texas military base where she served.
Survivors of military sexual assault and their supporters in East LA and Pomona are rallying at military recruitment centers to call attention to what they describe as an epidemic of sexual assault and abuse among service members.
Most news coverage of the tragedy hasn't mentioned letters that Vanessa sent to her mother complaining that a sergeant was sexually harassing her and that she feared retribution. In that correspondence she described Ft. Hood as an evil place.
"Find Vanessa Guillen" is the most popular of about two dozen Facebook pages set up to assist in the search and now, to demand justice in the case. A page moderator replied to a message from KPFK News saying they're distraught and angered that Ft. Hood and the Army lied to the family and continues to keep information from them.
According to the Battered Women's Justice Project, nearly 25% of women veterans reported to Veterans Affairs having experienced at least one sexual assault while in the military compared to slightly more than 1% of male veterans.
Groups using the hashtag #JusticeForVanessaGuillen are organizing rallies and vigils across Southern California to commemorate the young woman who they say "fought for us and now we must fight for her."
A Facebook event page for a Fourth of July rally on Saturday afternoon at the Army Recruitment Center in Pomona warned, "Mothers, don't send your daughters to the armed forces and to the mouth of the wolf where they teach them to kill."
Vanessa's disappearance and subsequent murder inspired a social media movement titled, "I Am Vanessa Guillen". Countless former military service members recounted their horrific experiences of sexual assault and violence while on active duty. Many decried the code of silence and the reluctance of military officers to bring an end and to punish the criminal behavior.