Classical Conductors & Composers with Earl Ofari Hutchinson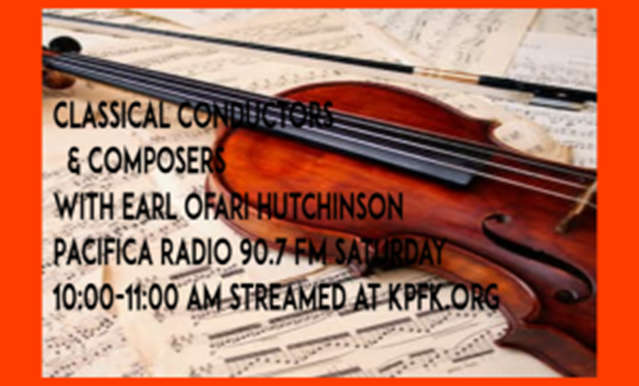 Classical Conductors & Composers
with Earl Ofari Hutchinson
Saturdays at 10 am
Bach, Handel, Beethoven, Brahms, Dvorak, Berlioz, Mozart, Mendelssohn, Mahler, Strauss, Rachmaninoff, Shostakovich, Schumann, Sibelius, Vivaldi, Schubert, Strauss, Wagner, and many more are the recognized master composers in classical music. Unfortunately, they increasingly are taking a backseat in classical music programming to pop, film, new age and wave music and composers.
Classical Conductors & Composers with Earl Ofari Hutchinson on Pacifica Radio will change that. The Saturday show will feature the greatest composers and their greatest works with the greatest orchestras. The Classical masters such as: Toscanini conducting the Beethoven 5th, Leinsdorf conducting the Mozart 41 (Jupiter), George Solti conducting the Brahms 1 and so on.
The music will be continuous for the hour with commentary and interesting factoids on the conductors and the featured works throughout.
A unique feature of the show will be listener call ins.
Classical music lovers and others can comment on the works and the composers.
Author of Beethoven and Me: A Beginners Guide to Classical Music
Beethoven and Me: A Beginner's Guide to Classical Music: Hutchinson, Earl Ofari: 9780692508176: Amazon.com: Books
Beethoven and Me-Classical Music Lovers Forum https://www.facebook.com/groups/1396684240660600