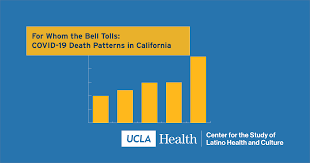 Image Courtesy of UCLA Health
Dan Fritz | KPFK
Scientists at UCLA's Center for the Study of Latino Health and Culture released a report this week sounding the alarm over the spike in death rates among younger Latino adults in California, due to COVID-19.
"In the early days of the pandemic, we worried about the skyrocketing death rate for the elderly," said David Hayes-Bautista, lead author of the report, in a statement released Tuesday. "Now the virus is falling on the working-age population, and the young Latino population is disproportionately represented in this demographic."
The researchers relied on California Department of Public Health data for the past three months (between May 11 and August 11, 2020). They found that Latinos ages 18-69 were dying of COVID-19 at rapidly increasing rates. Over that three month period, these working-age Latinos all saw their death rates nearly quintuple.
The young adult age group (ages 18-34) had a much lower number of deaths over all. But the morbidity rate still increased by an alarming 473%, noted researchers.
"These are uncertain times for young adults," said research assistant Giselle Hernandez, in a statement. "What should be exciting formative years is now marred by the fear of contracting COVID-19 or being an asymptomatic carrier and unwittingly passing it on to loved ones and contributing to health complications for them and their families."
Researchers found that early-middle-age Latinos (ages 35-49) saw an increase in death rates by 386%. And, late-middle-age Latinos (ages 50-69), who began the three-period at a much higher death rate, spiked to 471%.
The huge spikes, researchers say, are due to the Latino population serving as essential workers. Even as much of the economy shut down, healthcare workers, emergency workers, grocery workers and others stayed on the job, greatly increasing their risk of getting COVID-19.
In a previous report, researchers at the Center for the Study of Latino Health and Culture found that people of color generally have consistently higher relative death rates than whites. The factors vary, but the researchers say extended exposure to coronavirus and less access to healthcare play the largest roles.