Donor Advised Fund
KPFK Donor Advised Funds
A Donor Advised Fund (DAF) is a centralized vehicle for charitable giving that makes it easy for donors to dedicate funds to support their favorite nonprofit organization. It also provides an operationally convenient and tax-efficient method for you to manage your charitable giving. Fidelity, Schwab, Vanguard, and other companies with donor-advised funds permit such designations.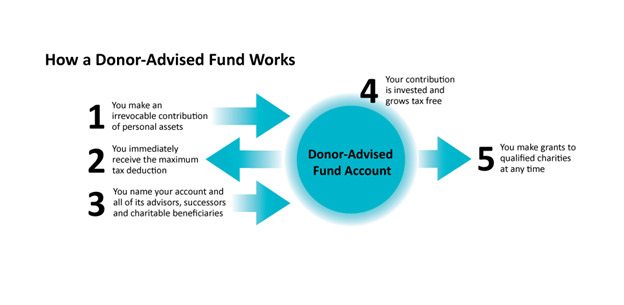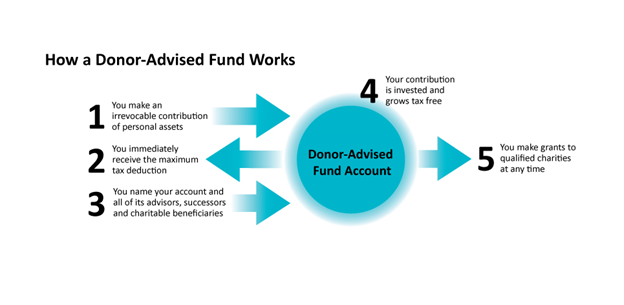 Image Credit: National Philanthropic Trust
Donor-Advised Funds can provide five primary tax benefits to the donor:
Income Tax: You receive an immediate income tax deduction in the year you contribute to your DAF. Since AEF is a public charity, contributions immediately qualify for maximum income tax benefits. The IRS does mandate some limitations, depending upon your adjusted gross income (AGI):

Deduction for cash.
Deduction for securities and other appreciated assets.
There is a five-year carry-forward for unused deductions.

Capital Gains Tax: You will incur no capital gains tax on gifts of appreciated assets (i.e. securities, real estate, other illiquid assets.)
Estate Tax: Your DAF will not be subject to estate taxes.
Tax-Free Growth: Your investments in a DAF can appreciate tax-free.
Alternative Minimum Tax (AMT): If you are subject to alternative minimum tax (AMT), your contribution will reduce your AMT impact.
Most DAFs accept donations of long-term appreciated securities and other assets, and you can advise how the funds are invested, which could potentially allow tax-free growth. They could result in more support for KPFK. Check with your account manager for details and the necessary forms.
Use KPFK's legal name "KPFK-FM Radio Pacifica Foundation" and Taxpayer ID No., 94-1347046.